Although it is May here in Colorado, the weather is still reminiscent of winter. As I write this, it is about 40 degrees, sleeting and overcast.
For a Texas girl, this is quite unusual. I can't help but long for summer. Those three blissful months of heat and sunshine are all I can think about lately. I can't wait for long drives with the windows down, cookouts with friends at a local park, and nice refreshing afternoons spent in a pool. But I have to stop and think:
Long drives = car
Cookouts = food
Pool = clean water (enough for me to swim in!)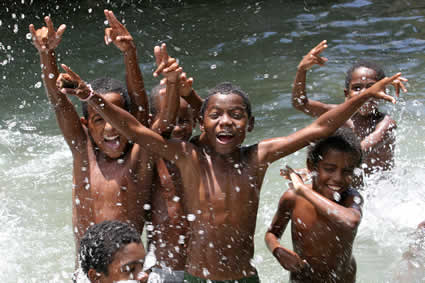 As I look forward to my favorite summer activities, I am reminded that my life is so different from the majority of the world's. I don't feel guilty (at least I try not to), but I do take a moment to stop and think about:
How thankful I am for my life — my experiences, friendships, opportunities and family.
How grateful I am for Compassion's ministry. All over the world, we are developing and empowering children so that they and their families are relieved from worrying about food, water, education, etc. and can stop and enjoy "summer."
As summer approaches and you anticipate all the fun things you have planned, take a moment to be thankful.
They will celebrate your abundant goodness and joyfully sing of your righteousness. — Psalm 145:7 (NIV)