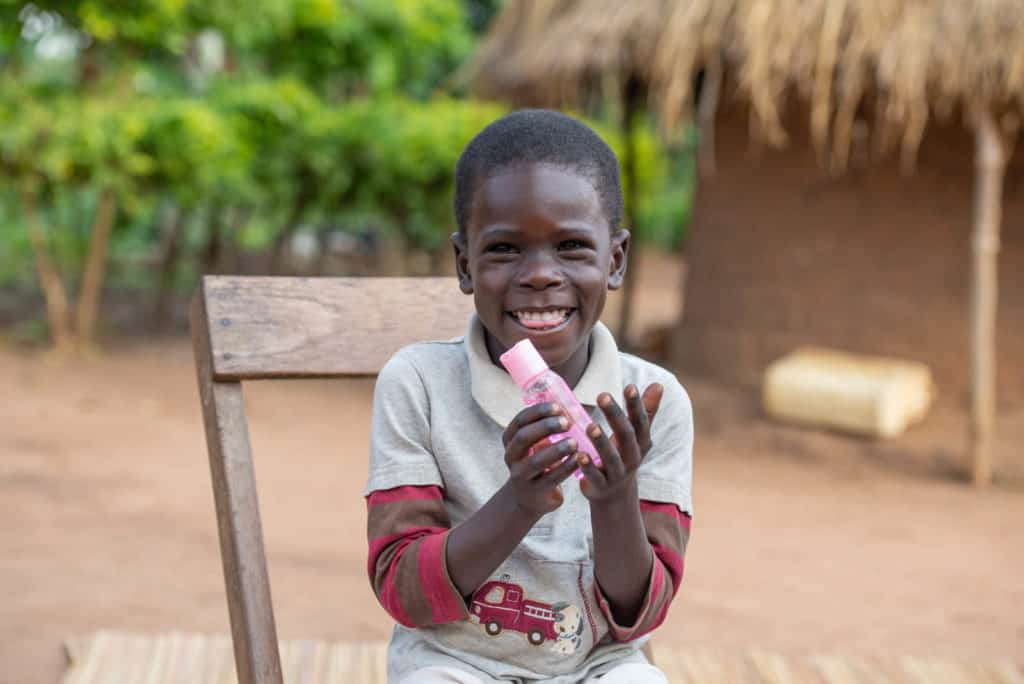 Rejoice always, pray continually, give thanks in all circumstances; for this is God's will for you in Christ Jesus. — 1 Thessalonians 5:16-18, NIV
God hears our prayers.
Isn't that just the coolest thing? That the God of the ENTIRE universe hears us cry out — and he answers?
Over the past several months, we've asked you to join us in praying specifically for the children and families living in poverty who have been disproportionately affected by the COVID-19 pandemic. We've invited you to pray for health, for financial stability, for food, for safety. You answered.
And so did God.
Since the beginning of the global spread of the coronavirus this past spring, God has worked through people like you to provide the exact support that children, families and communities in poverty need. Children have been fed, rent has been covered, hygiene training has been provided, and so much more.
So, today we'd like to thank God.
Yes, we still need to be covering others in prayer as the world recovers from this crisis. But today, we want to lift up prayers of praise to our God who has answered our prayers — and who will never forget the hungry, the lonely or the oppressed.
Please join us in prayer today!
Praise the Lord for feeding the hungry.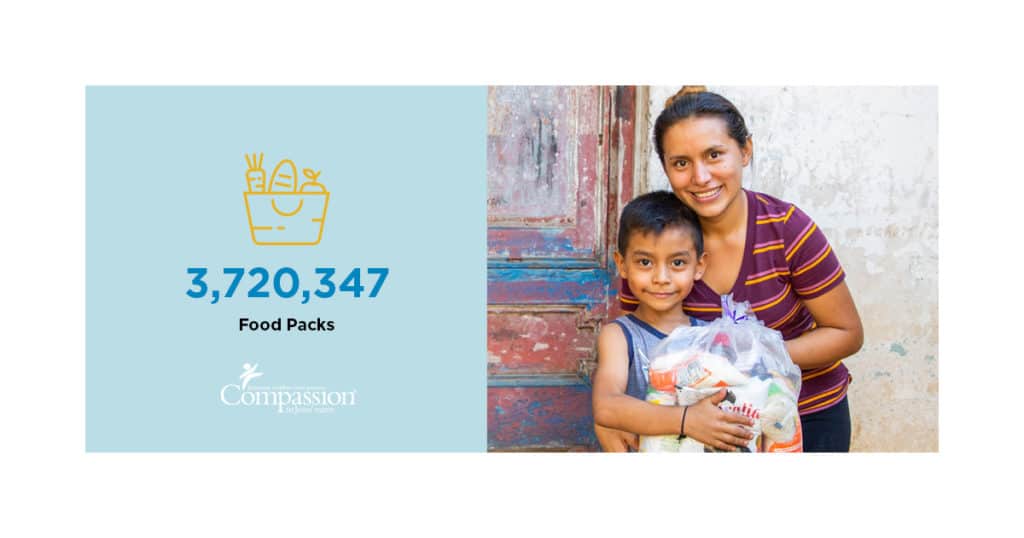 Between April and June, 3,720,347 food packs were distributed to children and families living in poverty by local church partners of Compassion International.
Millions of caregivers living in poverty have lost their income due to the pandemic, causing food crises within families. The United Nations World Food Programme reports that the COVID-19 pandemic could almost double the number of people suffering from acute hunger, pushing it to more than a quarter of a billion by the end of the year. This is a truly tragic reality.
However, we are praising God amid so much pain because in almost every country where Compassion works, church partners are delivering food packages to families in desperate need.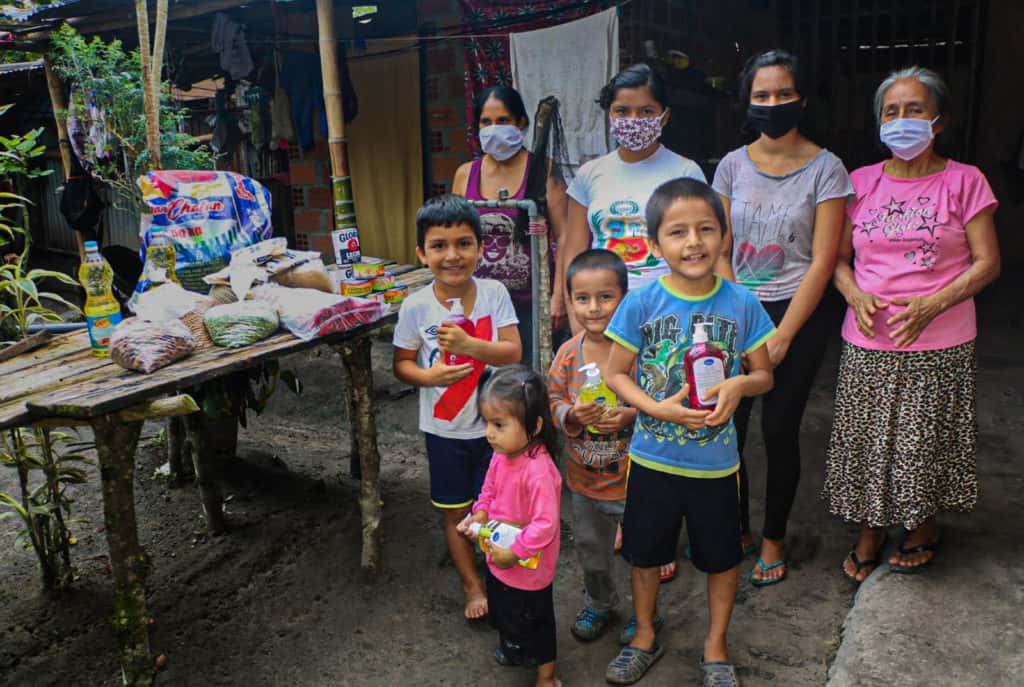 "God never forgets us, and I'm forever grateful to the [Compassion center], the pastor, the sponsors," says the grandmother of 14-year-old Nicol, a girl in Compassion's program in Peru. "May the Lord guide you and bless you all. I have something to feed my grandkids now. Thank you for giving us our daily bread."
Prayer of Praise: Thank you, Lord, for providing food to people who need it most. We praise you for opening doors so that children and families in the Compassion program do not have to go hungry.
Continued Prayer: We pray that you continue to make a way for Compassion staff and churches all around the world to provide food packages to families until this crisis is over.
Thank God for protecting the children.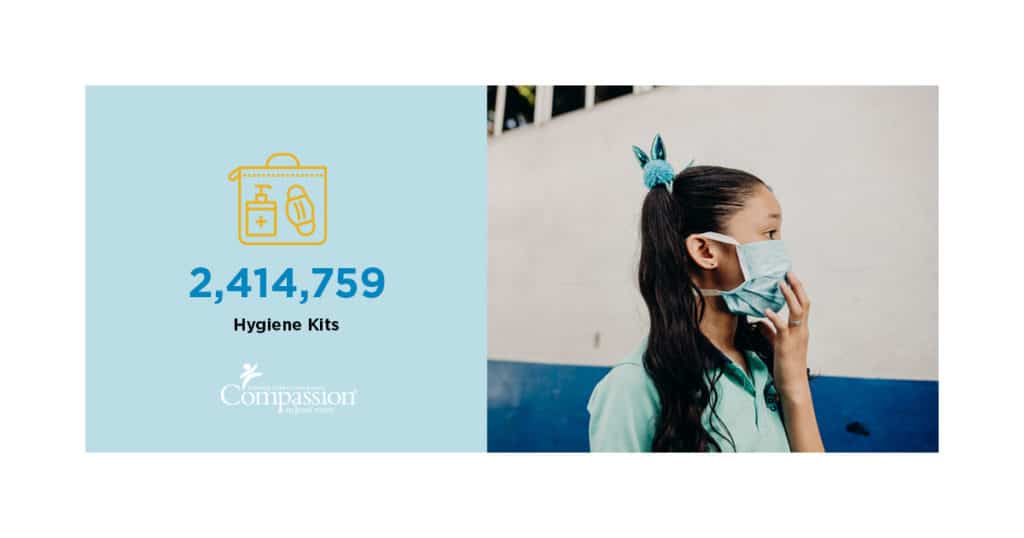 It's hard enough for the world's most vulnerable families to have enough food during this pandemic. So imagine also having to buy face masks, hand sanitizer and disinfectants. It's basically impossible.
But we're praising God because between April and June, 2,414,759 hygiene kits were distributed to children and families in the Compassion program. And that number is still growing. That means that over 2 million families received the necessary protective hygiene materials to keep them safe!
One Compassion child development center in Uganda trained fathers who lost their jobs to manufacture hand sanitizer, which was then distributed to vulnerable children and families.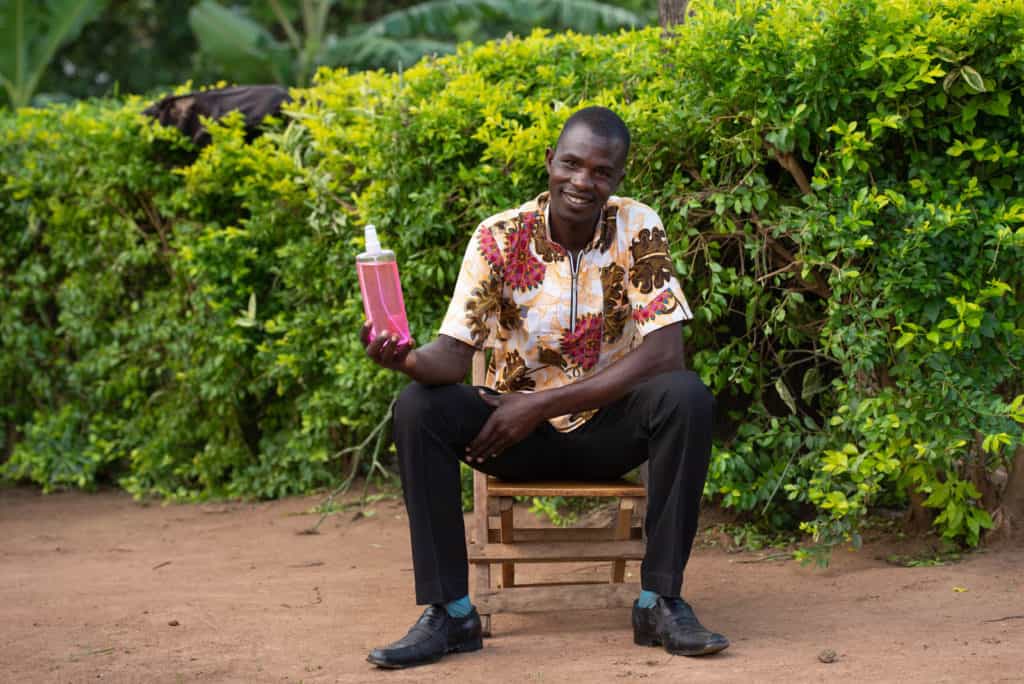 "Before COVID-19, there was poor hygiene. There was no sanitation," says Joseph (pictured above), a father of a child in Compassion's program. "But when I learned the skill, I was able to make sanitizer and my family was able to wash their hands. This has improved the state and standard of sanitation in my family."
Prayer of Praise: God, thank you for protecting children and families in poverty by helping churches provide hygiene packs. We praise you for keeping these precious people safe.
Continued Prayer: Until this virus is under control across the globe, we ask that you continue to open doors for churches to keep on providing for the hygiene needs of children and families in poverty.
Praise the Lord for providing medical support.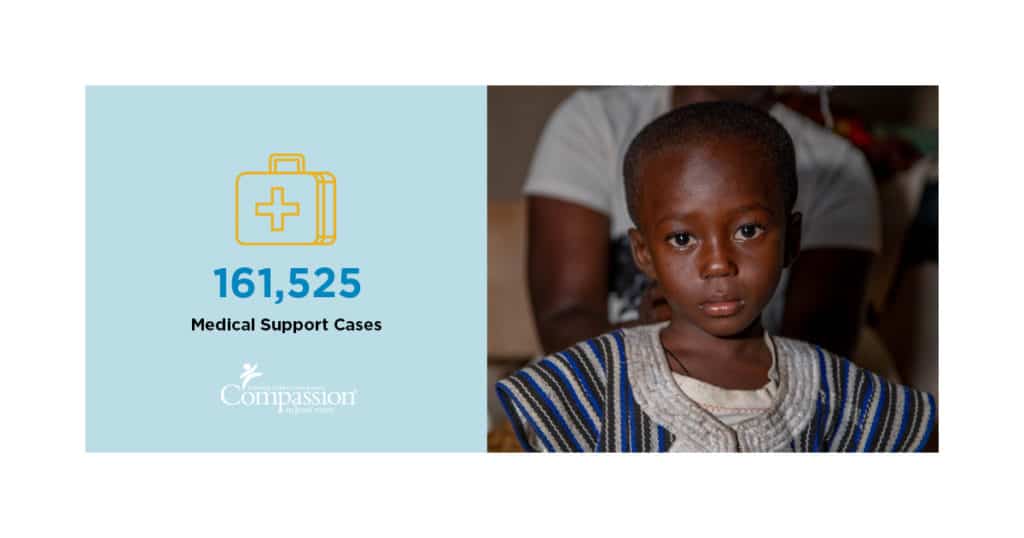 Medical care is often unobtainable for families living in poverty — and that's when there's NOT a pandemic happening. Imagine how difficult it is now for children and families to get the health care they need …
That's why we're so grateful that God allowed Compassion to help provide medical support to over 161,525 people between April and June 2020.
In Togo, 9-year-old Wisdom was diagnosed with life-threatening malaria. It left him screaming in pain and struggling to eat or speak. And to top it off, both of his parents lost their jobs due to the pandemic and had no way to pay for their son's medical treatment.
But with the help of the local church, Wisdom was able to receive the exact medical care he needed.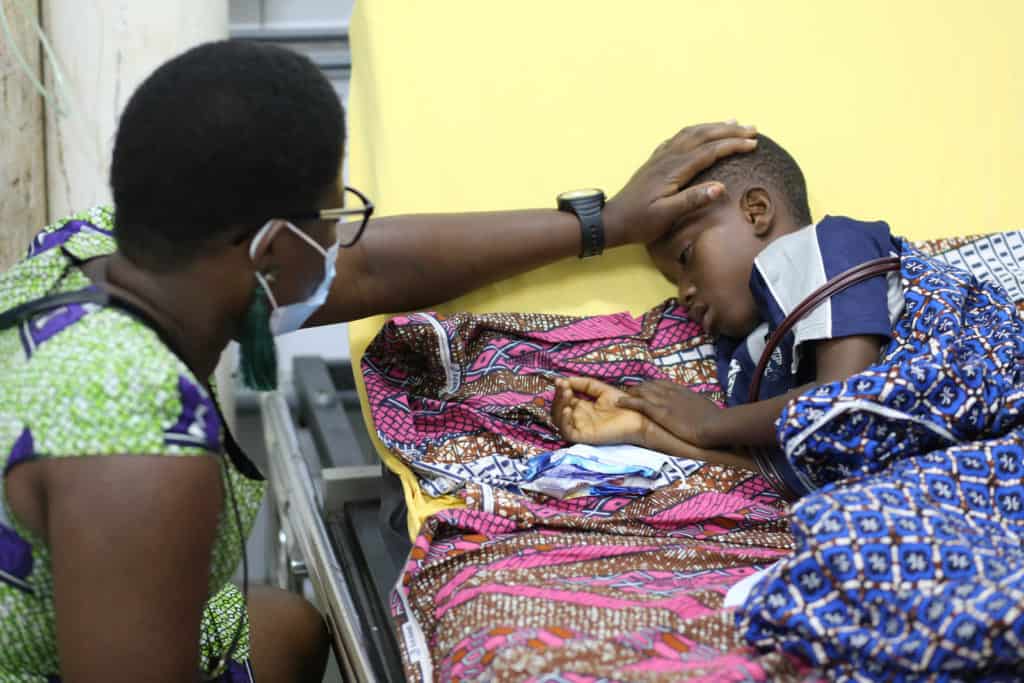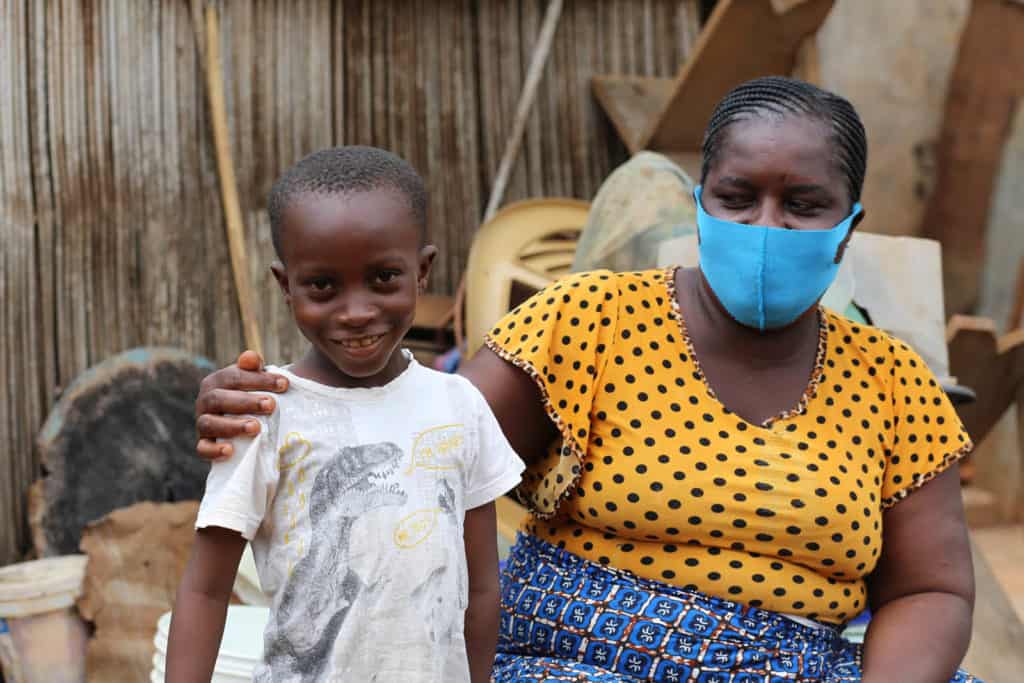 "Compassion saved us," says Wisdom (pictured above, in the hospital and after he recovered). "If Compassion were not there and if I was not enrolled in the program, I would have died of this disease."
Compassion gave me my life back because they did not want me to die."
Prayer of Praise: Lord on High, thank you for creating opportunities for the Church to step in and help cover the cost of medical care for children and families during these extremely trying times. We praise you for the health and hope you have brought.
Continued Prayer: We ask that you continue to create divine opportunities for churches all around the world to help provide health care, especially during this pandemic.
Thank God for blessing families with financial relief.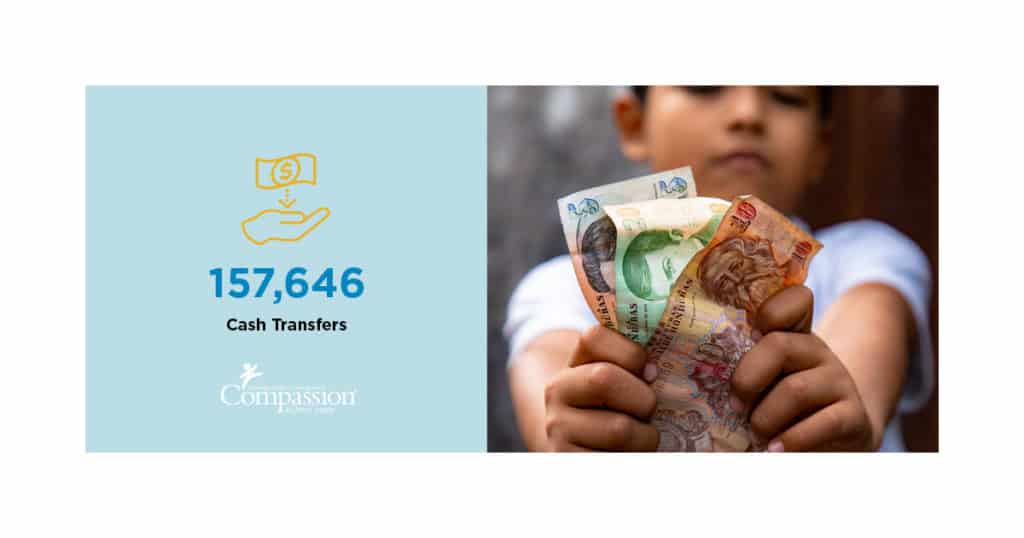 In certain countries were Compassion works, it's been difficult to deliver essential aid to families due to quarantines and government policies. So church partners in the Dominican Republic, Ghana and Kenya have adapted by electronically transferring money to struggling families.
Between April and June, 157,646 unconditional money transfers were made to families living in poverty, and that number has continued to grow. The money is used to pay rent, buy food or to cover the family's greatest needs.
"Having families decide how to spend the money dignifies them," says Joel, the National Director of Compassion Kenya. "It provides them with a choice … it's not a one-size-fits-all solution."
Prayer of Praise: Thank you, God, for providing avenues for ingenuity in caring for children and families in poverty. Thank you for providing the opportunity for families to feel empowered and dignified.
Continued Prayer: We ask that you continue to reveal to us new and creative ways to care for our neighbors — both here and abroad.
Interested in learning more about how you can be praying for children and families living in poverty? Join the Compassion Prayer Network today!
START PRAYING ›
Reporting by Zoe Noakes. Photos by Silas Irungu, Caroline A Mwinemwesigwa and Fernando Sinacay. Graphics by Humble Creative.