UPDATED Oct. 3, 2012: You did it! You helped us meet and pass the goal. The final number of children sponsored was 3,159. We'll announce the prize winners in a blog post on Oct. 8. Stay tuned!
---
September is Blog Month at Compassion. And what that means is prizes, giveaways, blogging assignments and more children sponsored via the Internet than any previous September in our history.
The goal is 3,108 children sponsored between Sept. 1 and Sept. 30.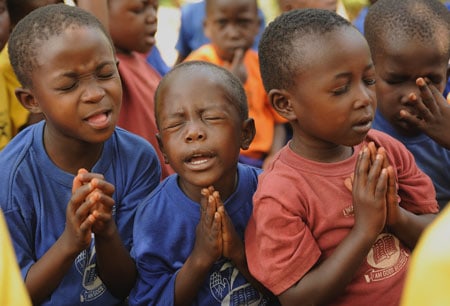 Who Can Participate?
Anyone can participate but if you want to be eligible for the prizes and giveaways you must be a Compassion Blogger. Join now.

What is a Compassion Blogger?
Simply put, a Compassion Blogger is someone using his or her blog to change the world for children in poverty. Compassion Bloggers receive monthly emails with suggested topics to write about in support of our ministry and programs.
You can learn more at compassionbloggers.com.
Do I Need a Blog to Participate?
Yes. And no.
You need a blog to in order to complete the writing assignments we send out in Sept. Each assignment you complete will qualify you for a giveaway.
If you don't have a blog, you can still "participate" by telling others about blog month, sharing blog posts via email, your social networks, etc.
You're also welcome to create a blog just for the month of September. We don't mind at all.
How Will Blog Month Actually Work?
We will send an email to the Compassion Bloggers network each Monday in September with the latest blogging "assignment." The first week will be an exception. The assignment will be sent on Tuesday, the day after Labor Day.
The assignments will include the topic for the week and provide a host of resources for you to use. You can write about whatever you like, but to be eligible for the assignment giveaways you'll need to write about the suggested topic.
You can write about the assignments anytime in September, but you'll quickly realize that for some of the prizes writing sooner rather than later may be advantageous.
After the email has been sent to the Compassion Bloggers, we will share details about the assignment in our social networks, so you can participate by helping generate buzz around the campaign.
What are the Prizes and Giveaways, and How Can I Win?
Let's start with the giveaways. All you have to do to get some of this swag is write.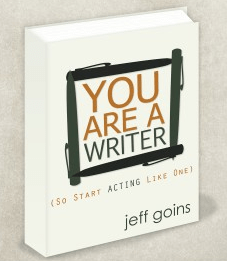 Complete one blogging assignment and you will receive a free electronic copy of You Are a Writer by Jeff Goins.
This is an eBook about what it takes to be a writer in the 21st Century.

In it, you will learn everything from how to get started with a writing career to ultimately getting your work published — and all the wonderful work in between.

Mostly, you will learn the importance of believing in your calling and showing up every day to do what you were made to do: write. – Jeff Goins
Complete two blogging assignments and you'll receive You Are a Writer PLUS Jeff's newest book, Wrecked. This will also be an ebook.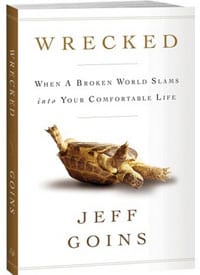 Wrecked is a book about the life we're afraid to live—one full of radical sacrifice and selfless service. It's a look at how we discover fulfillment in the least likely of places.
This is a guide to growing up and learning to live in the tension between the next adventure and our daily commitments – Jeff Goins
Complete three assignments and you will receive You Are a Writer, Wrecked AND a copy of Just a Minute (hardback).


For good or for ill, individual moments in a young person's life can make all the difference in their future. It may be something said or done by an adult who hardly thinks about it: a hug, a compliment, an intriguing question, a sincere applause. But in that moment, the child discovers who they are, what is important to them, why they matter, and sometimes even what their destiny will be.

Complete all four blogging assignments and you will receive the first three books PLUS a copy of Michael Hyatt's new book Platform. (hardback).
A platform is your tribe. People who share your passion and want to hear from like-minded people.

If only you had a platform to reach them. Well, now you can . . .

Platform consists of five sections and sixty, short chapters full of practical steps, real-world examples, and helpful resources. It is not armchair theory. It is not idle speculation. It is full of "news you can use" to help you build your own platform. – Michael Hyatt
See. It's simple. Just write and you get stuff. But there's MORE.
Each assignment will have prizes associated with them, and the details of how to win will be in each email we send out.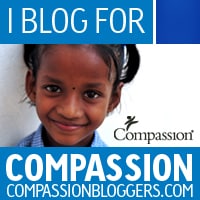 The prizes include:
gift certificates to the Compassion online store ($25, $50 and $100).
family and child gifts for your sponsored child ($25, $50 and $100).
copies of Ann Voskamp's book One Thousand Gifts.

AND

a spot (FREE) on one of our blog trips in 2013.
REMEMBER: To be eligible for the prizes and giveaways you must be part of the Compassion Blogger Network.
We hope you're as excited about blog month as we are and will join us in September as we set out to change the lives of 3,108 children (and then some) in 30 days.