One of the goals for our Child Sponsorship Program is for every child to successfully graduate with faith in Christ and the necessary life skills to become self-sufficient.
Onidis, 20, is one of the many young people who have graduated from our Child Sponsorship Program in the Dominican Republic. He successfully completed the program last year, just after finishing high school. He attended the program from the time he was 7 years old until he was 19.
His development center, Buenas Nuevas Student Center in Pedro Brand, has provided vocational and technical training opportunities for their children since 1982. Hairdressing, acrylic nail styling, English, typing and banking are some of the vocational training classes offered to the students over the years.
At 13 years old, Onidis learned basic English at the Compassion center. After being trained on a computer and learning advanced typing, he had the skills to be a secretary. At the age of 18 he completed the technical courses on computer repair and maintenance.
Eighteen is the age when Dominican youth get their electoral and citizen's ID card, an age of a lot of uncertainties and challenges. In the case of Onidis, it was a time of opportunity. He got a job in the human resources department for the Dominican Armed Forces Ministry. He is currently in charge of maintaining the staff data and the system itself.
Besides his formal job, Onidis also keeps a small computer repair shop at home. His experience and reputation has become well-known in his community.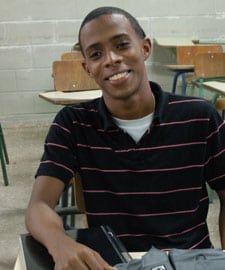 With his jobs, Onidis is able to pay to study computer engineering at the O&M University in Santo Domingo.
Today, Onidis is an active member of the Pedro Brand Biblical Temple Church. He and other youth perform plays, poetry and sing specials at the regular church services. Even after leaving the child development center, he continues to demonstrate a commitment to the lordship of Christ.
Onidis has visited the center from time to time to help with the logistics for youth activities. And he installed the wiring in the center's computer lab and the programs on the computers.
Onidis' story reflects the importance of the Child Sponsorship Program, even for the youth who don't move on to our Leadership Development Program. Through his attendance, he was able to develop a relationship with Christ, as well as develop vocational skills that have allowed him to not only become financially self-supporting, but also to serve his community.