The most devastating words Sandra remembers ever saying were,
"If it wasn't for the Child Survival Program, I would have killed myself."
Sandra lives in Ecuador. La flaca, Spanish for skinny, is her nickname in the neighborhood. She lives in an area where there's a lot of violence.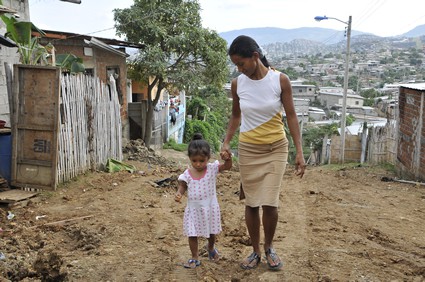 When she was 17 she got involved in her first serious relationship with a man who was older than her. They had two children. Because he hit and mistreated her, they separated.
This wasn't Sandra's only bad experience. She met another man and got pregnant. This man would never recognize the child as his.
Years later, Sandra had almost given up the possibility of having a new relationship when she met someone else and had two daughters with him. Her five children had three different fathers, but she was young and started to feel hopeful again.
However, she faced mistreatment and physical abuse a third time. In addition, this man was addicted to marijuana.
Sandra's dreams were shattered.
"Every time I asked (my partner) to give me some money, he hit me. One day, he got home completely high and hit me. It was awful. It felt like my entire body was about to faint."
Sandra's two oldest children had not lived with her since her first separation, and she was under the constant fear of being abused in her third relationship. She and her three youngest children were imprisoned by suffering, panic and scarcity. She was overwhelmed.
"I had no strength at all. All I did was cry and cry."
Sandra thought the only way out was to disappear. She didn't want to see, feel or fight anymore. She felt despondent and defeated.
"I kept on asking God to take me with Him because I couldn't stand my life anymore."
She thought seriously about putting an end to her life and confessed to her mother that she no longer wanted to live. Sandra was planning to commit suicide.
"During the rainy season, I was waiting for the river to become deeper so I could throw myself in it."
While Sandra suffered from hopelessness, God was closer than she imagined. He heard her distress. But His answer to her prayers was very different from what she expected.
God was putting all the pieces together and finding the right people to rescue Sandra and her children.
The situation between Sandra and her partner got worse, so she and her children ran away from the house. The violence continued and Sandra was afraid their lives were in serious danger.
The only refuge she found was the Child Survival Program and the church. They offered Sandra and her children food and a place where they could be safe.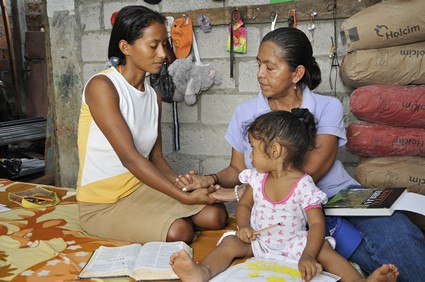 Child Survival Program staff member Mercedes tells us,
"Poor thing! She was hiding when she came here because he was looking for her like crazy."
Sandra clung to God and the Child Survival Program as her only hope. She was given shelter and protection, as well as food for both body and spirit. Her life began to take a different turn, little by little.
Today, Sandra speaks with hope and has found in God the love and happiness she desperately tried to find through all the wrong paths.
Furthermore, thanks to the constant prayers of this woman of faith, her abusive partner is changing.
He quit hitting Sandra, found a job, and greatly reduced his drug use due to treatment he received in a rehab clinic.
Sandra is now generating income for her family by selling jewelry and shoes. She also sells cleaning supplies and personal hygiene products she learned to make at the Child Survival Program workshops.
She sells these items in a tiny grocery store at home. The profit is just a few dollars a day, but sometimes that's enough to meet small needs.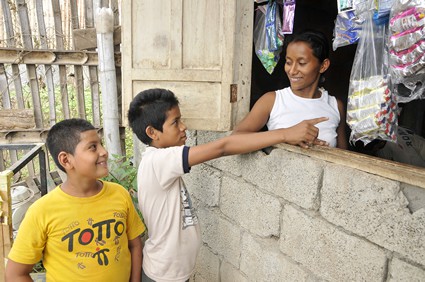 The Child Survival Program has truly transformed Sandra's life in ways that wouldn't have been possible without the financial contribution of generous donors, who are like God's arms that save lives like Sandra's.
Today, her testimony has no trace of doubt.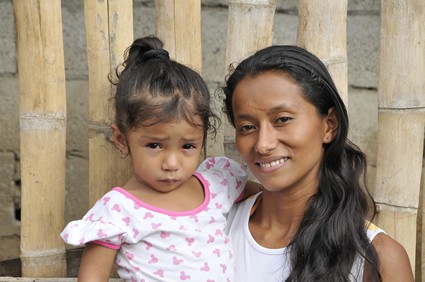 "If it wasn't for the Child Survival Program, I would have found a way to kill myself and my children would be suffering so much. I'm so grateful and I think I will never be able to find the words to truly thank you for all this."