Ecuador is known as a country with adequate water supplies, and in fact has four times more superficial water than the world's per capita average. But Ecuador also has a huge problem. Water isn't well distributed, and large groups of people in the rural areas have no access to it.
The main issue here, though, is access to safe drinkable water.
Year after year, almost 90 percent of the illnesses that affect the inhabitants of developing countries are caused by poor water quality. Out of the 6 million deaths that this problem causes each year, a quarter of them are children.
Water pollution is the origin of millions of cases of diarrhea, malaria, blindness, hepatitis A and parasites each year.
Colta Monjas Alto is an indigenous community located in the central northern zone of Ecuador. A year ago, this community was included in these dark statistics, but now looks into a brighter future.
Everything in Colta Monjas Alto began to change with the restoration of an old water purification plant.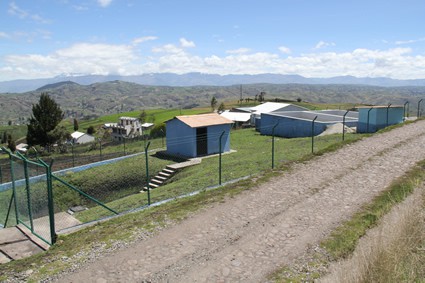 Pastor Pedro of Implementing Church Partner, Divine Promise Evangelical Church tells us,
"The plant was built about 20 years ago and worked for only three or four years. The authorities neglected the plant, which caused its gradual decline until it eventually stopped working."
When the plant stopped working everybody in the community started to drink piped water that wasn't treated at all.
"It arrived to the houses of our families just like it came from the páramo. When it rained it was absolutely black because of the dirt, and we had to keep it in buckets for a while so that the dirt would go to the bottom and we could consume the water."
Another common thing was the unpleasant taste and smell of the water, but residents here had to use and consume it because they had no other option.
Little by little, the Colta Monjas Alto inhabitants, especially the children, started to get ill. There was an increase of cases of digestive disorders, stomach aches, diarrhea and parasites. Even skin problems showed up, and both adults and children had cavities and yellowish teeth.
The search for a solution to this serious problem began when the health issues that affected children became unbearable. Pastor Pedro shares,
"I knew that I wanted to help, but I didn't know the aid was going to come through water. I felt the need to do something about water purification, but I didn't know what to do or who to make an alliance with."
When Pastor Pedro learned about the possibilities that Compassion's Complementary Interventions could give, he designed (with the help of some professionals) a rehabilitation project for the water plant in ruins.
Thanks to Complementary Interventions funds, the project was approved and became a reality.
The filtration materials were completely changed, the pipes and the regulation valves were replaced, and the collection tanks were repaired, made waterproof and painted.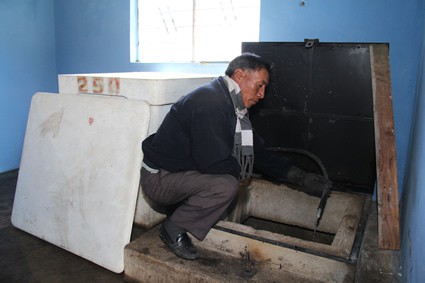 A safer, metal gate was installed in the chlorination room in order to better preserve this process. And a new fence was built around the entire water purification plant.
Now the plant is fully working and spreading health through its pipes. The water that comes from the springs of the páramo is collected in the filtration tanks where all the solid materials are decanted. Then the water goes right to the chlorine area.
The health disorders that affected the youngest population have quickly been reduced. Mariano, Director of Project Mas Que Vencedores Student Center, shares,
"The number of cases of health problems diminished only a couple of months after the plant started working again. People didn't suffer from diarrhea and we stopped hearing about teeth problems."
Francisca, mother of a sponsored child, also shares,
"We are doing better, thanks to God and the child development center. Now we have clean water treated with chlorine. We can wash our hands and teach our children to do so before having their meals and after going to the bathroom.

"We also tell them to wash the fruits. The health problems have diminished a lot. My daughters are happy because their teeth are whiter. Before, they had that blackish color. They brush their teeth more often these days."
Cases of previous health problems have been cut in half, but the community wants to go even further and carrying out a continuing education plan for the community.
Today, nearly 600 children and their parents have been trained on topics regarding hygiene and water care.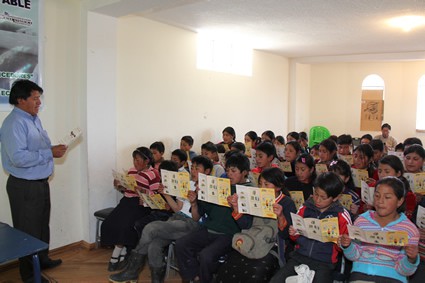 Through printed information, lectures and radio shows we are providing holistic training for the inhabitants of Colta Monjas Alto and the other communities nearby, enabling them to develop good hygiene habits and become responsible consumers of the water resources in their area.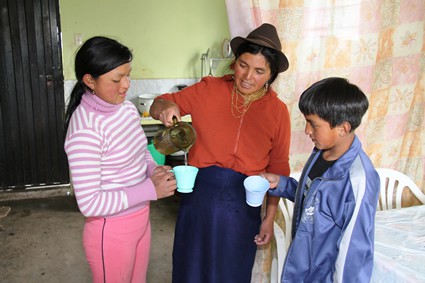 No dream can come true without the necessary funding to do specific work and produce safe drinking water. This is why the inhabitants of Colta Monjas Alto acknowledge the role donors had in making a significant, positive change.
Mariano affirms,
"Such charitable and generous people felt compassion for our children, families and the community. I want to thank all the brothers and sisters who gave their donations because we would have never been able to do any of this without them."
Pastor Pedro adds,
"As a church, we pray for them all the time. We can't see them physically and we don't know who those people are, but they helped us and God knows it."