According to Compassion Haiti's Disaster Response Coordinator, his country will not perish, but will rise up. It will rise up when the poverty-stricken youth of his country are taught that they can defeat poverty. He should know — he used to be one of them.
The plains of Saintard are a patchwork of plantations, sitting on edge of the Caribbean. Elissaint Jean Jacques grew up under the palm trees of his rural Haitian town, but he also grew up knowing poverty.
Those who have jobs in this area earn about $80 a month working the plantations. Most have no jobs at all. Elissaint grew up knowing he was one of the lucky ones. Other little children in his community got malaria or diarrhea and died young. Other little children dropped out of school young to work with their parents.
But Elissaint's life was different. He was registered at a Compassion-assisted center at the local church in Saintard. He got treatment when he was sick. He got to stay in school all the way through graduation. Most of all, he learned that though he was born in poverty, poverty could stop with him.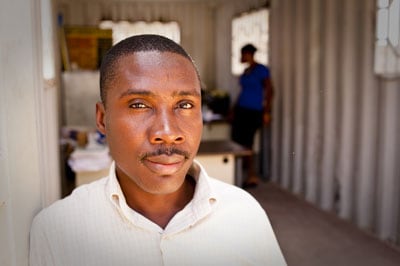 Elissaint was a star student, and after he graduated, he became one of Haiti's first Leadership Development Program students, a program that provides university education and leadership training to former participants in Compassion's sponsorship program.
Elissaint was a star student in the Leadership Development Program as well, and when he graduated with his degree, he was awarded a Fulbright scholarship to study at the University of California, Davis. In two years, he completed Master's degrees in Community Development and Agriculture and Resource Economics.
Rather than join the diaspora of Haitians in North America, Elissaint knew he wanted to return to his troubled home to help spread what he knew — that it is possible to defeat poverty.
"Many people have left the country, but those who love Haiti have stayed. That's why I came back. I decided to put my skills to the benefit of my country. The Bible tells us that those who are given much are asked to give back. I feel this is the will of God for me."
After gaining some work experience, he was hired at Compassion Haiti in 2005 to manage the interventions program, which includes initiatives such as water, malaria response and community development.
When the earthquake rocked Haiti on Jan. 12, 2010, Compassion Haiti turned to Elissaint, now 37, to step in as the Disaster Response Coordinator. It's a big job. Compassion Haiti has been implementing more than 20 strategies to respond to the crisis. This includes such activities as distributing food kits immediately after the earthquake, providing shelter materials to the homeless, organizing medical and vaccination clinics, rebuilding church and school buildings, and providing microloans so parents can restart their businesses.
Although the amount of work to be done and the devastation around him is still daunting, Elissaint believes it is possible to overcome.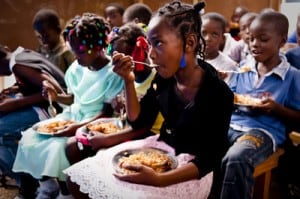 "It is possible to defeat poverty — poverty is in the mind. When you encourage children that they can overcome poverty, that they have potential, and give them a little help to take off, I think we can defeat poverty."
.
For Elissaint, those aren't just empty, hopeful words. He has experienced it.
"If you motivate and inspire the youth that they can change their world, we can overcome poverty. Because I was born in it, and I am not poor. It was possible for me to come from peasant parents and complete university studies — if you have this mindset, you can make it."
The work is still large. It won't happen overnight or even in a year. It will take years for Haiti to come back from this earthquake. But Elissaint isn't leaving. Compassion Haiti isn't leaving. And the local churches who implement our programs aren't leaving. They are raising a generation of children to believe that their life doesn't have to end with poverty. They are raising a generation who believe that God wants to save and redeem His Haitian children to change their country for His glory.
"For this country to come back to where it was is going to take a lot of years. But when people decide that Haiti will not die, I believe it is possible to come back even better."