Just crossing the finish line of Colorado's U.S. Trail National Championship June 29 in Steamboat Springs was quite a feat on its own. Winning an age-group division in this 12-kilometer race was even more of an accomplishment. But what really qualifies Tim Smith as a champion is succeeding in all this with a symbol plastered across his chest to represent the millions of impoverished children around the world.
Tim is a Mail Services Specialist at the Global Ministry Center (GMC) in Colorado. As he says, he is "deeply passionate about and committed to our work … to release children from poverty in Jesus' name."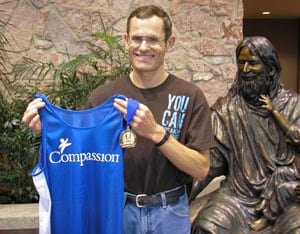 Tim is a prolific runner and runs as passionately as he works. He approaches both his job and his races with fervor because in his mind these two worlds are not isolated.
The U.S. Trail National Championship was the 10th race he competed in since March 2007 while wearing his jersey and representing Compassion — clearly Tim utilizes running as an opportunity to speak up for children living in the bondage of poverty.
How many eyes saw his Compassion jersey as he warmed up, raced and recovered?
How many individuals wondered about Compassion or for the first time considered the harsh reality of poverty that affects so many today?
Neither Tim nor anyone else may ever know the results of his choice to race in that jersey. All Tim can stand on is that we are all called to "seek justice," "encourage the oppressed," and "defend the cause of the fatherless" (Isaiah 1:17) in every area of life. The results are not our responsibility.
Tim's grass-roots advocacy captures the core of Compassion's desire: to break hearts for the poor in a way that permeates who we are and causes us constantly to remember the voiceless.
Not only that, but as Tim explains, "I wear the Compassion shirt because my desire is to honor Compassion and the ministry. … I use the shirt as a platform upon which I can witness to other athletes that I come in contact with."
Not only could his jersey cause people to consider the poor, but it presents an opportunity for Tim to share with other runners the purpose Christ has given his life. Wearing a Compassion shirt is a simple act, but God uses nonglamorous obedience to further His kingdom.
---
Story by Barb Liggett, Global Strategy Office Intern