Gisele's mother was a housemaid and prostitute when she conceived her. She rented a small house for herself and her daughter out of the money she got from prostitution.
Gisele (not her real name) got very little care from her mother when growing up, and many nights the girl would be locked up in the house alone. Heathcare worker Nadege shares,
"It was evident that Gisele was not cared for at her home. She always came to the child development center dirty despite the many times we talked to her mother.

She was withdrawn and would refuse to eat. She never attended church and missed many days at the center. Once Gisele went missing for almost two weeks."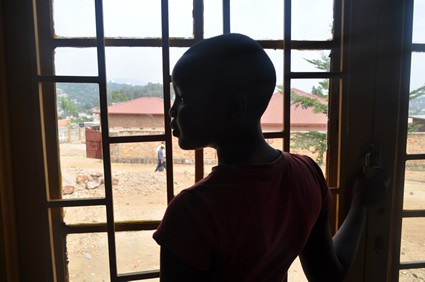 In addition to their daily devotional prayers, the pastors and staff at Gisele's child development center take one day a month to fast and pray for the children. In the two months Gisele started coming to the center, they noticed her condition and started praying for her more specifically.
They prayed that God would watch over her and protect her, and that her mother would come to know Christ. Most of all, they prayed that God would comfort Gisele, give her peace of mind, and intervene in her situation.
So when Gisele went missing, they fervently searched for her and prayed she might be found and that hope would be restored in her life.
Soon after this, a woman in the area named Florence met a friend who was walking with 6-year-old Gisele. Her friend told her how troubled she was that Gisele was homeless, but she had too many children to be able to do anything to help her.
Florence tells us,
"Gisele looked very malnourished. Her hair was brown and her face was swollen. She had no shoes and was in dirty torn clothes. I bent down and took her hand and asked her to come home with me.

I realized how sad she was, and I could not leave such a child in the streets alone. I did this for God!"
Gisele told Florence that she slept wherever the darkness found her and that her mother refused and abandoned her. Her mother would come home late in the night or not at all. She also told Florence how much she missed school because no one else cared.
"I brought her home, washed her and gave her clothes. My daughter Divine was 5 years old then so I knew Gisele would not be alone. I took her back to school and then I brought her to the development center."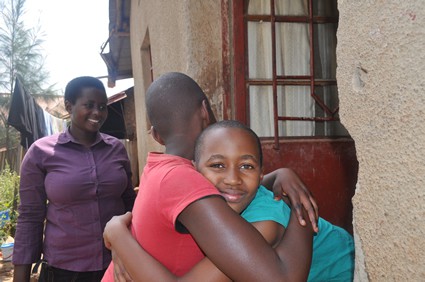 Those helping Gisele did not know the truth about the girl's condition, until they took her to the hospital where she was diagnosed as HIV positive. She was immediately put on medication with funds from Compassion's Complementary Interventions program, and a special diet was provided for her.
She also receives food supplements such as milk, eggs, sugar, rice, wheat flour, cooking oil, fruits and many others.
"We tell Gisele HIV is a disease like any other and that God could even heal her completely. We have been taught how important it is to follow the prescribed dosage and we all cooperate to do so. My daughter Divine even reminds me two hours before time.

When we started living together, Gisele was withdrawn and reserved. I told her I wanted to be her new mother, and with time she improved and now calls us her parents. We love Gisele and take her as our very own!"
Florence and her husband registered Gisele as their own child at the sector and district level. Their daughter Divine is proud of her elder sister and follows her everywhere she goes.
She even escorts her to the child development center and helps her with her homework.
Florence is a stay-at-home mother, and her husband is a carpenter who gets part time jobs. On a good contract he earns 120,000 Rwandan francs [$199 US dollars] per month.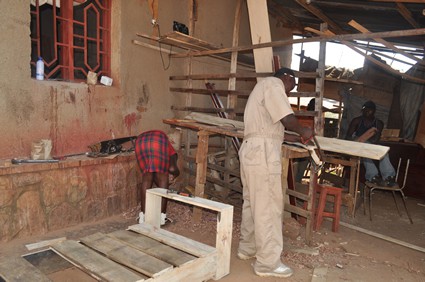 "I was raised by a step mother and was treated very badly but I still grew up. This made me take up Gisele without hesitancy.

And even though I am not rich, Gisele will live as we are living. Throughout my childhood I noticed that God loves orphans."
Gisele is now in third grade and has been living with Florence's family for about three years. In the beginning it hurt her feelings whenever her mother just passed her without even greeting her, but she has forgiven her. This soft spoken 9-year-old shares,
"I am not mad at her. I do not hate her. I forgive her because she does not know what she is doing. I pray that God may forgive her as well."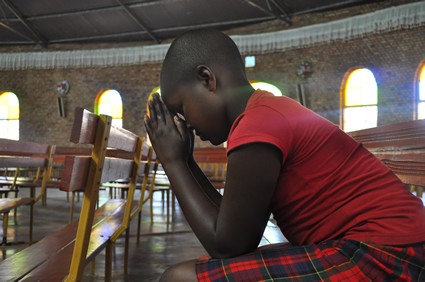 Gisele sings in the children's choir and goes to practice every Saturday. She also loves to play ball and skip rope. Her favorite subjects are English and Kinyarwanda. She wants to be a minister when she grows up.
Gisele's stability and adoption into a new family is something we are grateful to God for. We are thankful that she feels well and that her health is better. She used to be very small but now she is healthy. We still pray for her and we thank God for intervening in her life.