"It's Christmas time, joy to the world! The rich and the poor will share," says a popular Latin American Christmas carol.
Lights, colorful garlands and presents decorate Quito City, Ecuador. The wealthy families celebrate Christmas Eve with a table full of abundant and delicious delicacies and fantastic gifts around the tree. Others who aren't so prosperous gather with less splendor but full of hope of sharing a modest but a deep-felt family celebration.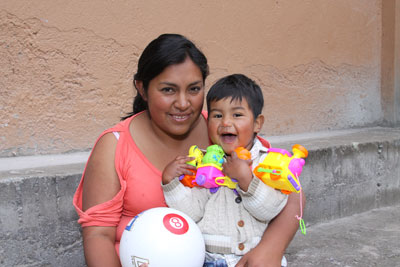 For many people in Ecuador, their Christmas dream is no broken families, no homeless children, no kids without a gift, and no parents crying for the lack of money to give a special celebration to their families. But their reality is different. While some people have fancy celebrations, others can do nothing but stare at shop windows and others even beg on the streets.
María lives in the La Victoria Alta neighborhood, a place with limited access to public transportation and public services. It is one hour away from Quito's downtown area, a place where the cold weather is so intense that people feel chilled to the bone.
María is one of the hundreds of mothers who cry at Christmas time. She has three children and she can barely meet their basic needs, so she can't even think about the possibility of getting her little kids presents for Christmas.
"It's just sad … . We see that some people have enough money but we totally lack it."
Sonia takes care of Erick, her 3-year-old nephew, while his mother is out working to sustain the family. Sonia has become a mother to her nephew and her heart aches every time she thinks about Christmas and the fact that neither she nor her sister will be able to give a present to Erick. No matter how hard they work, their home expenses surpass their incomes by far.
Evelyn, a mother of three, confesses, "I haven't given a single present to my children in years." Every day she's weighed down with worry because of her financial situation, and the worries increase as Christmas time gets closer.
Families like María's, Sonia's and Evelyn's, whose husbands left them or who don't have a steady source of income, finish every year struggling to survive with the little they have. This is when Christmas sadly becomes an unhappy season full of pressure and colossal challenges that has nothing to do with what this time of the year is meant to represent.
Yet to the joy of many families whose mothers and babies are registered at the Child Survival Program (CSP) in the La Victoria Alta neighborhood, the heavy load of poverty — that constant lack of not only material goods but spiritual growth, too — has been relieved.
María, Sonia and Evelyn say that the Child Survival Program is their second home, a safe and warm place that's always full of love and hope. These three mothers, along with more than 40 other moms and children from La Victoria Alta, are beneficiaries of the Child Survival Program and this past Christmas enjoyed an unexpected celebration like they never imagined.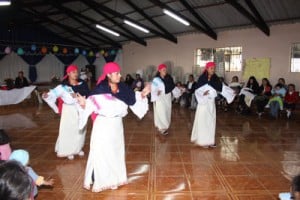 Contests, prizes, toys, carols, plays and a special lunch were part of the Christmas party at the Child Survival Program. Some mothers performed an Andean folk dance, while others acted in a play to communicate the true gift of Christmas.
The party was a great opportunity to show the CSP mothers and children that they are loved, important and valued. Their little babies were the stars of the party.
Tons of colorful toys, chosen not only to bring fun to the children but to help them develop their motor skills, filled the courtyard at the CSP facilities.
Last month, María thought that she was about to go through another sad Christmas, but she was gladly surprised. They received a warm blanket, a toy car, and a doll to assemble.
Other children received gifts like balls, trains and play food. The toys were chosen by the CSP implementers to help the children with their physical and cognitive stimulation.
María's daughter, Paola (33 months old), was "happy because this is the perfect gift for her."
Evelyn enthusiastically watched as her son, Isaías, got his presents.
"He tore the box and took out the train … he opened the mesh and took out the ball, too. Now he's running around playing with his brand new stuff."
Elvia Vega, CSP Coordinator, says that the purpose of the Child Survival Program is to bring joy into the lives of mothers and children because "some kids have never received a single present." The mothers registered at this neighborhood's Child Survival Program "are women who don't have any money, not even for food," she emphasizes.
But the most transcendent point of the celebration was sharing the true meaning of this party. Within a commercialized world where money and social position are top priorities, the Child Survival Program emphasized the root of this season and the most important gift of all: Immanuel, God with us.
Vega affirms,
"These days most people think that many things are essential … but through the Christmas pageant we taught that there's nothing more important than Jesus."
Pastor Elicio Quinga witnessed the effort and dedication of the CSP personnel to give an unforgettable Christmas to the program's participant mothers. María testified her deep gratitude with these words:
"Thank you so much, from the bottom of the heart. May God continue to bless you! The program's support is fantastic, especially to me."
All this is possible thanks to the Child Survival Program and your kind hearts. You may not see the expressions of excitement in the children's faces or the tears of joy in the mothers' eyes, but you have gave them a different Christmas in 2010.
You gave them the opportunity to experience the true love and the genuine bliss brought only by meeting the True Star of the Season — Jesus — and feeling the endless grace that comes from His heart.