One of the things that shocked me when I visited Uganda last month was finding myself scared to death of mosquitoes. It was the strangest feeling to be afraid of something so small — something we usually think of as just a pest. But in Africa mosquito bites don't just make your arm itch — they kill.
Malaria, which is transmitted by infected mosquitoes, is killing one million people a year. Most of these are children under age 5 in Africa. That's right. Malaria, which is preventable and treatable, is killing more than 750,000 children a year in Africa.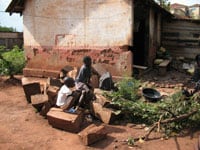 Before visiting Uganda, I never really understood how mosquitoes managed to claim so many lives. But when I visited homes there, I understood. Many of the houses don't have doors — just sheets covering the openings. And the windows are usually bare, too. So at night, the mosquitoes help themselves.
Catherine, a single mother I met in Uganda, told me that before Compassion gave her an insecticide-treated mosquito net, she did everything she could to protect her 10-year-old daughter, Irene. But her efforts were in vain.
"Every night, I tried to cover Irene with a blanket, but she would still get bitten all night long," said Catherine. "I wanted so badly to buy her a net, but I couldn't afford it."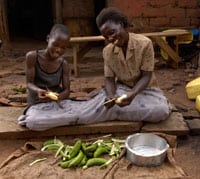 And when Irene got malaria, Catherine certainly couldn't afford doctors' bills. "Before Compassion, I would go pleading to doctors for help and beg to pay later," she said.
Thank God that Compassion intervened! Through the ministry's Complementary Interventions Program, Irene is now getting medicine and sleeps under a quality net. Today, she's healthy and thriving.
You can make a difference and help protect vulnerable children like Irene! Since today is World Malaria Day, take a minute to learn more about this disease and see how you can join the fight!