Some people are foodies. I, on the other hand, am a wordie. I love words and if I let myself go, I would have a home decorated with inspiring quotes and zero open wall space.
Luckily for me, I get my wordie fix through my work here at the ministry. I have to admit it, though: There are those days when writing doesn't come easy.
As we enter the home stretch of Blog Month, you may be feeling a little low on creativity and words. So I want to give you a little exercise to help get those creative juices flowing.
And while this exercise may seem a bit repetitive, bear with me. There's a method to the madness. To begin, choose to write about either the following quote or sentence:
Quote: "Poverty is not necessarily an issue to solve; it is an opportunity to serve. As we go through each day, our heart's cry should be, 'Lord, where would you have me give, serve, and invest myself to bring hope to the poor?'"  — Orphan Justice author, Johnny Carr
Sentence: The presence of dignity doesn't mean poverty is absent.
Then,
Find a place where you can get quiet. Take a few minutes to tune out the world, pray and ask the Lord to show you something unique about the quote or sentence you want to write about.
Read your quote or sentence out loud and take a few minutes to get quiet again.
Read the quote/sentence aloud a second time, but this time pay attention to any words that grab your attention and why. Write them down. Take another minute of quiet.
Read the quote/sentence aloud a third time, and flush out ideas and emotions that sometimes get stuck below the surface of our writing. Let the repetition of this exercise reveal a particular word, phrase or emotion that becomes your blog-post inspiration.
Like this …
The presence of dignity doesn't mean poverty is absent.

Presence.

One of the names of God in scripture is Presence. When reflecting on this one word, I think of Him hovering over me, lingering, never leaving.

The presence of dignity.

When I reflect on the first half of this sentence, I see a picture.

A picture of the very Presence of God, the Creator of all things hovering like a cloud ever so closely to the poor. That while poverty is not absent, as the second half of this sentence states, neither is He.

And, while poverty stands next to a child whispering lies into her ear, the Presence is even closer, boldly speaking truth.

What is truth?

The presence of dignity doesn't mean poverty is absent, yes. But the presence of poverty does not have to rob a child of dignity.
---
This is an example of Blog Month assignment number four. Get the full details for this week's assignment at compassionbloggers.com.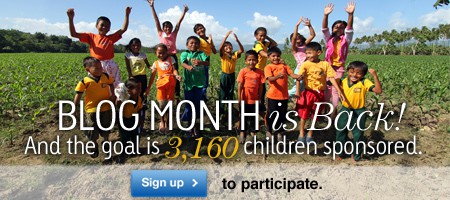 After you write your blog post, don't forget to enter the URL in the Rafflecopter widget below.