I (Juli) recently dreamed I was climbing a lot of barriers (including locked gates) to get to my sponsored child Nuy, and she was doing the same to get to me.
Nuy is the precious girl in Thailand I sponsored from the time she was 8 years old until she graduated from the Leadership Development Program last year.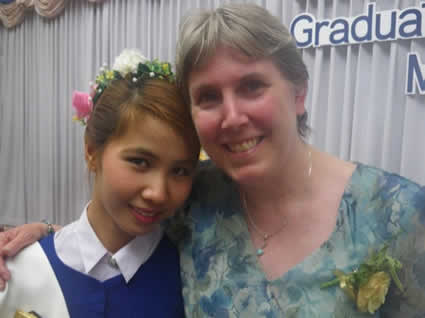 In the dream, when we finally got past all the barriers, representing race, language and distance, and met in the middle, we hugged eagerly.
When I awoke, I recalled the real hugs we'd shared when I traveled to Thailand for her graduation — when we truly celebrated all the obstacles she overcame and the barriers we broke through over the years.
We shared a meal together for the first time, and on Mother's Day no less. Words can't describe the joy and satisfaction of that moment!
Chris: When we heard Mom was going to Thailand to attend Nuy's Leadership Development Program graduation, my sister, Sarah, and I offered to go along.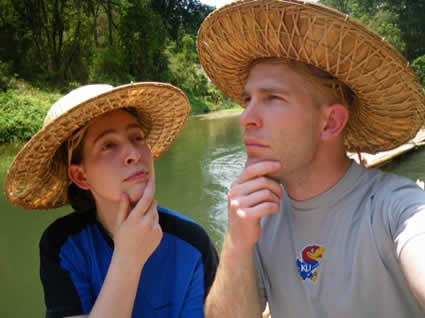 We had grown up with Nuy, reading her letters around the dinner table and praying for her.
I didn't know what to expect when we met her, knowing she had grown up in poverty. And when I saw her, right in front of me — beautiful, intelligent, nicely dressed — I wondered if she'd really needed us.
Then I realized, it worked. It really worked. She's no longer in poverty.
Yes, she has chosen to stay with her mother in simple surroundings, caring for two small nephews, but she has a good job, is supporting her family, and is out of poverty. Wow! Compassion works.
Sarah: After the graduation ceremony, Nuy took us to a huge market and chose foods to cook as her gift to us.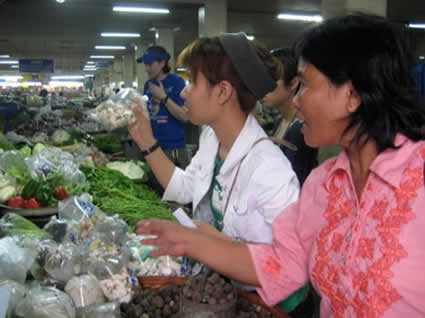 The market was a crazy place with lots of things I hoped she wouldn't buy, like the heads of pigs, slimy squids and intestines of various animals.
Thankfully, she made perfect choices and later we sat on the floor of the Leadership Development Program apartment, on a mat, eating the most delicious meal!
One other sponsor couple was also there with their student, Pen.
Chris: Hanging out with Nuy was fun, and meeting her in person was a step beyond the letters we had shared through the years. We had an extra day together after graduation, and soon we were taking goofy photos, laughing together, and sitting on the backs of elephants.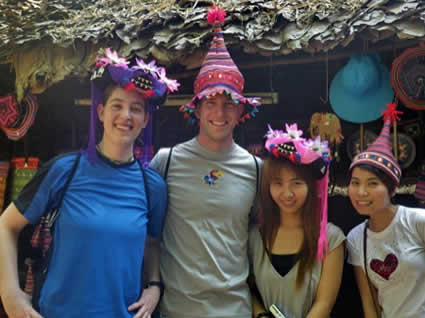 Sarah: We also went floating down a river on rafts. Elephants and wild water buffalo were all around and my brother and I pretended we were Huck Finn and Tom Sawyer! It was a blast!
Nuy is seen here with her mentor, Gratae, but Mom stayed back with Nuy's mom, Bo, and the translators.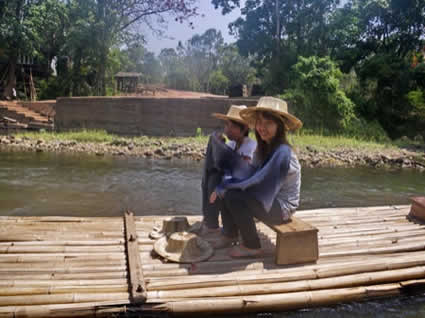 Juli: I'm so glad to have had time to visit with Bo. What a beautiful woman! She kept thanking me tearfully for staying with Nuy and not quitting.
As it turned out, she'd had a sponsor before us who had quit after one year.
What Bo didn't know was that I couldn't have continued sponsoring Nuy when she was accepted into the Leadership Development Program, but God had provided several friends to be partners in praying for Nuy and to help make the sponsorship payments; I didn't want to lose her for anything.
Bo told me that the people at the child development center asked her to cook for the children, and she did so for years.
Since she was working at the Compassion center she would often sit in on Nuy's lessons with her, and that's how she also came to know Christ as the answer to her deepest needs.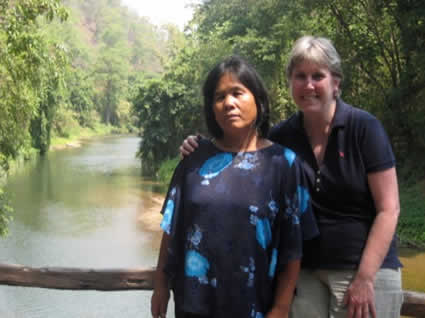 Sarah: It was sad to say goodbye to Nuy, but we knew she was in God's hands. I took this last photo of Mom and Nuy hugging. Nuy had just written something in Mom's journal when she asked for her autograph (written in Thai, but later translated):
"Thank you for the love of God that you and your family give to me. I'm very glad and feel warm in my heart. Thank you so much for such a great time in only a few days.

I promise that I will miss you and pray for you often. And thank you for your embrace, which I've been awaiting for so long. It feels just like I'm hugging my mom."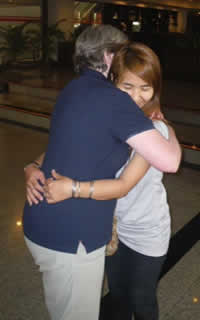 Chris: In addition, we had the opportunity to visit a child development center and meet three children in need of sponsors.
I wanted to sponsor this little girl, Film, but didn't feel I could take on a second child yet; I'm sponsoring a little boy in Peru whom I also hope to visit some day.
It didn't take long for Mom to find sponsors for all of them when we got home, although she chose to sponsor Mod-Daeng for herself.
Film's sponsoring family is with her this month in Thailand — we all wanted to hide out in their luggage and go back too!
Sarah: We also went on a home visit and met this amazing family. They graciously offered some water, and we shared gifts we had brought.
Mom also found a sponsor for a child named, Fram — the sponsor is the youth pastor of our church.
Fram's parents were the nicest, most sincere people, and we loved meeting them!
And we had a great time with all the Compassion staff; they are amazing friends we will remember forever.
Juli: I had a correspondence girl named Emjay in the Philippines, and could not imagine failing to meet her, too, as she was also graduating from the Leadership Development Program. So we also were able to visit Emjay's home.
What a hoot to ride around in this tiny green motorella, all scrunched together!
We had a great time, traveling by various vehicles to a beautiful island, and hanging out with sweet Emjay and her delightful center director, Eva.
Since they spoke fluent English, the bonding and silliness came very quickly and easily between all of us!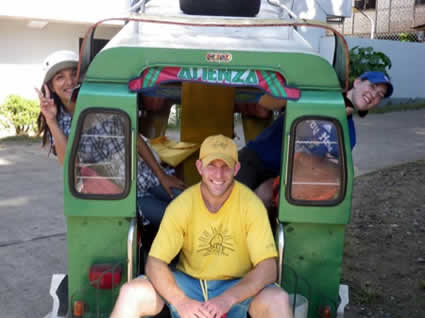 I'm thankful for the blessings our sponsored children have been to us as a family. My kids have a greater interest in missions, in foreign travel, and in needs around the world because of it.
They have true compassion in their hearts for others. They have worked to help others in places like New Orleans and the Gulf Coast, soup kitchens and foreign mission fields.
Although my oldest son and my husband were not able to go on this trip, they are eager to help at a table when I speak for unsponsored children in churches as a volunteer.
This past Mother's Day I got an interesting gift from Sarah, and called to ask what it meant. The number 38* rang a bell for me, but I wasn't sure what she meant by her note.
I called her, and she said,
"Mom, for your gift this year I'm sponsoring a child."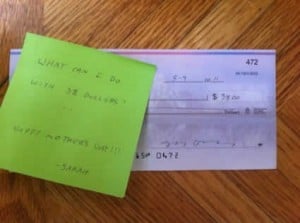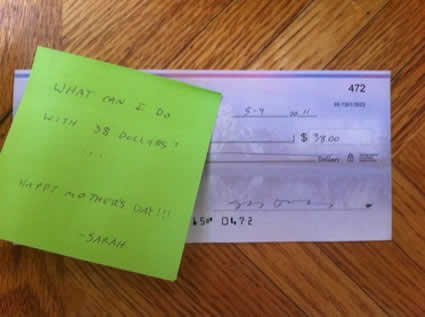 Wow! I couldn't hold back the tears.
Compassion runs deep in our family. God's ways are amazing!
*This was published prior to our rate change to $43