Our holistic child development model is central to our mission of releasing children from poverty in Jesus' name. And the curriculum standards we have put in place in all of our programs are key to achieving this goal.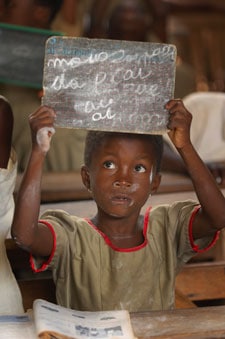 In recent years, we developed a global curriculum to help develop children holistically — physically, spiritually, cognitively and socio-emotionally. It is designed to be nonacademic, similar to an after-school enrichment program. For example, instead of learning math, children learn how to apply mathematical skills.
Another example is that in many of the countries where we work, children are taught to stay quiet and to not share their opinions. Instead of just telling them what to do, we work through our curriculum to empower children to have their own voice when they leave our sponsorship program.
"We want them to own their own development," says Mary Ann Springer, who led the curriculum design. "As an example, we train the children how to eat well so they can make good decisions on their own."
The new curriculum is both age-appropriate and contextualized to fit the needs of the children. For example, in our Child Sponsorship Program the lesson plans are aimed at age groups of: 3-5, 6-8, 9-11, 12-14, 15-18 and 19 and above.
For the 3- to 5-year-olds, a physical lesson might be learning about basic hygiene, such as brushing your teeth. The spiritual lesson might be learning a Bible story. A socio-emotional lesson might include learning how to treat others. A cognitive lesson might teach about the five different senses.
Global curriculum standards ensure quality programming in our child development centers by giving the tutors easy-to-use and effective material to teach the children. Another important benefit is having measurable "outcomes" and "indicators."
"Every lesson plan and activity points to a specific outcome and indicator," says Springer. "The goal is for every student to graduate having achieved the four outcomes, each with three indicators, for the lesson plan."
For example, one outcome of physical development is that a child "chooses good health practices and is physically healthy." The three indicators associated with this outcome are that the child:
demonstrates an appropriate understanding of his or her physical body
experiences reduced incidence of illness, nutritional deficiencies and physical impediments
takes responsibility for wise life choices about health and sexuality
The new curriculum standards also provide for focused, detailed lesson plans. This allows the tutors to have a clear path to obtain the desired objectives. It greatly helps the teachers prepare the classroom programs. With less time devoted to preparing lesson plans and with better tools, they are able to give individualized attention to each child.
The curriculum uses various methods of teaching in order to reach every child's learning style, whether that's hands-on, auditory or visual. Most of the lessons are participatory, including small groups, discovery and games.
Because we work in so many diverse cultures, each of our country offices has the freedom to contextualize the curriculum to their specific needs. For example, in Indonesia, one of the lessons had been designed to teach the children how to tie their shoes. However, in some of the communities in Indonesia, they wear sandals, not shoes that tie. Contextualizing helps our offices weed out culturally irrelevant content.
The variations of the curriculum range widely from country to country. Some use the standards as they are and some have made major changes. For example, in Rwanda, due to the past internal conflicts, there is an emphasis on teaching forgiveness.
"As long as there is balance within the curriculum, the countries have freedom to adjust the curriculum to their needs," says Springer.
Our new curriculum helps children develop into whom God made them to be, and the tutors no longer feel burdened with developing daily lesson plans. They now have the time to devote to the children to encourage them to grow holistically.
As the new curriculum standards are implemented in more child development centers, we draw one step closer to using fully realizing our mission: releasing children from poverty in Jesus' name.