UPDATE: April 10 at 4:00 p.m. MT – Fatao returned to Burkina Faso and is doing very well. His homecoming was celebrated by both family and friends. Thank you for your prayers and support!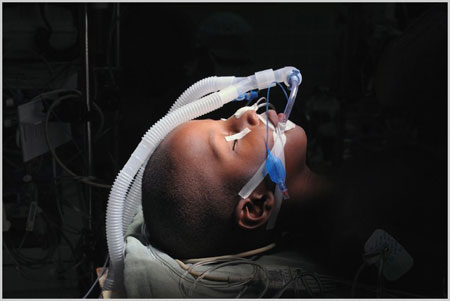 Donate now to help other children like Fatao
---
Abdoul Fatao Kone is a 6-year-old boy living with his father, mother and five siblings in Bobo Dioulasso (southwest Burkina Faso).
Fatao's father is a part-time security guard who struggles to make ends meet for his family. And Fatao's mother sells fritters (steamed bean cakes) at the local market to help support the family.
When Fatao turned 1, his parents learned that he has a heart problem: a ventricular septal defect (VSD)—a hole in his heart.
Although his parents have known about Fatao's condition for years, they've never been able to afford the necessary medical care. Instead, they tried traditional medicines and methods. Traditional methods include scarring the skin with small holes and placing herbs in the holes then washing the body with a mixture of boiled leaves. When these didn't work, they had no other options until Fatao was registered in our sponsorship program in December 2010.
At his first medical checkup the following April, the doctor, Tamboura Hassane, prescribed numerous medications for Fatao: Furosemide, Captopril, aspirin and Corvasal—and placed him on a salt-free diet. He also recommended that Fatao see a cardiologist.
"In Fatao's case, his heart has to work double or triple than [what] it would work normally, so if Fatao is growing up and the heart is working faster, it will have to stop someday because it won't be able to respond to this."
The cardiologist confirmed the diagnosis of ventricular septal defect in August and recommended surgery. For the surgery to take place, Fatao needs to travel to India. Dr. Hassane explains,
"We have to stop the heart working during the surgery and find means to get blood and oxygen to other parts of the body, but we don't have the equipment to do that here."
The total cost of Fatao's surgery, including passport, visa, travel, the surgery itself and follow-up care, is $23,000.
When it comes to additional medical assistance like this, for things beyond normal preventative care (e.g., heart surgery, cancer, prosthetic limbs, traumatic injury, vision and hearing issues, etc.), our church partners have immediate access to $5,000 via our Medical Assistance Fund.
However, when the expenses associated with these special medical needs cost more than $5,000 the child development center pays for the additional expense by borrowing money from other areas of its budget and submits a proposal requesting more money be made available to them—money which at some point needs to be raised.
As our Child Sponsorship Program grows, we are serving more and more children and families who struggle to survive in extreme poverty; many of them have special medical needs. As a result, more of our partner churches are relying on the Medical Assistance Fund. In the past few years, requests for medical assistance have tripled.
As we did a few years ago with Alexander, we're asking you for help. Please make a donation to help pay for Fatao's heart surgery.
And if you prefer not to, please spread the word about Fatao's situation. Pull out all the stops. And please keep Fatao in your prayers.
Thank you for loving this child.
---
Any money raised in addition to the $23,000 for Fatao's surgery will be used to pay for similar surgeries for other children in our sponsorship program. Children like Alexander, Rossy and Victoria.
---
UPDATES AND VIDEO/PHOTO RESOURCES:
Fatao's parents will not be traveling to India with him. They are trusting God that everything will turn out well.
I am not worried . . . All for me is about having hope and prayer. I pray for him to recover and come back to us. This is a matter of distance. If he were here, I would be there, but it's too far. I will keep praying here so that he comes back to us. – Kone Lassina, Fatao's father
I know that I cannot be there, so I am just praying that my son returns home well, and I am praying that we are all well, too. – Sanaou Pauline, Fatao's mother
Fatao's journey begins
While waiting for his heart surgery, Fatao plays with toy cars and dreams about using his new running shoes after heart surgery. He says that one day he is going to be the fastest athlete in Burkina Faso.
This 5 minute video explains how Fatao's heart was repaired.
And this 7 minute video is an interview with Fatao's doctor, Dr. Robert Coelho.
Here's a glimpse at how Fatao was doing immediately after his surgery.