For millions of girls around the world, their period brings shame, confusion and stigma. Discover how girls in Brazil, Honduras, Sri Lanka and Togo are finding education and empowerment with Compassion's support.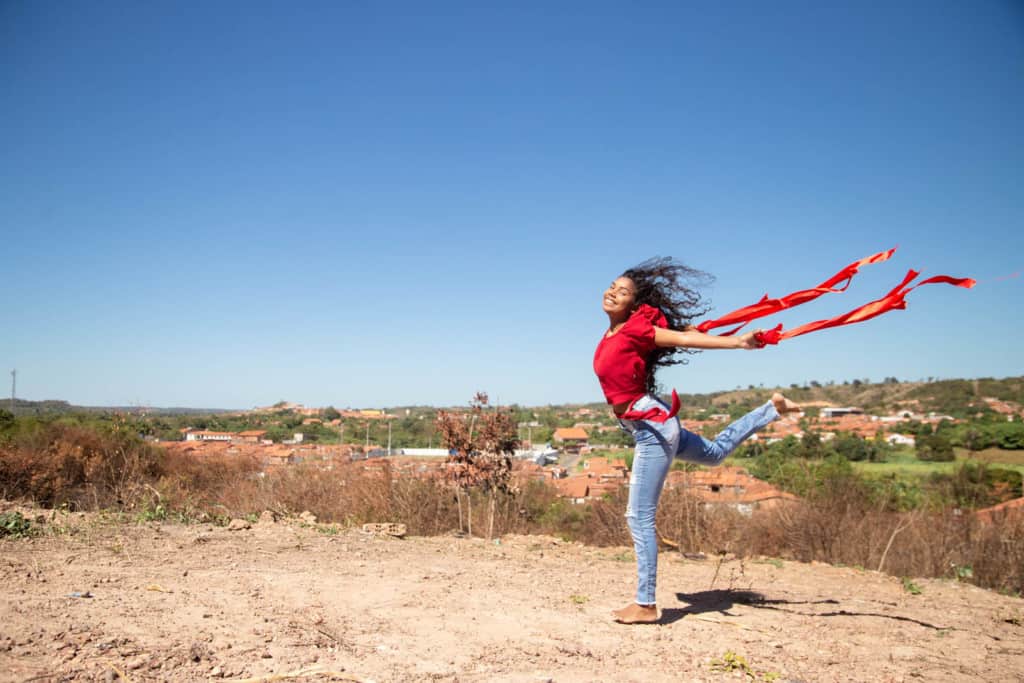 Each Oct. 11, the United Nations observes International Day of the Girl Child. It's a day for us to dream of and work toward a world where girls are free from gender-based violence, harmful practices, HIV and AIDS, and limited opportunities based on their gender.
Our local church partners across the globe are working hard to make this world a reality. One significant way they're empowering girls to lead bright, impactful futures is by educating them about how to care for their bodies.
Many girls in poverty struggle against a menstruation taboo. Because of this taboo, girls are often not prepared for puberty and are scared and confused when their periods start. When they experience menstruation, others in their communities treat them as dirty, and they have trouble attending school. As a result, sadly, some girls feel ashamed to be girls, afraid their gender will limit their futures.
So what does it feel like to be a girl in a community like this and face the challenge of being female?
What's Happening to Me?
Somewhere in the world, a girl is starting to feel pain in her abdomen. It's unusual; she's never felt it before. Later, she searches for the nearest bathroom. When she looks down, she sees the blood. This is the day of her menarche, her first period.
So many questions and thoughts follow. "What is it? How am I going to clean up? Who am I going to tell? What will I use?" Many girls ask, "What am I going to do now?"
For some girls, those are easy questions with clear answers. They were prepared for this day. So, they take a shower, call their mothers and ask them for period products. They may be congratulated or told they have become a woman. They feel clean, safe and protected.
However, for many other girls, their first period can bring despair. That's how Adrienne in Togo felt.
"When I had my first period, I felt so uncomfortable and shocked. I didn't know anything about it, and I was also ashamed of talking about it to anyone," she says. "I wasn't bold enough to talk to my mum when I had my first period. She discovered it on her own because I was stressed, not moving from my seat and taking constant baths."
In Brazil, despair was also Maria Rita's reaction. She was just 12 years old when she had to figure out what was happening to her body.
"When I had my first period, I thought I had cut myself, but I didn't know how," says Maria Rita, now 17. "I used to hear people talking about periods at that time, but I didn't know what it really meant. We didn't have pads at home that day, so I used some rags I had at home. I was disgusted with all the blood. I hated myself. I cried in the bathroom because I didn't want to be a girl anymore if I had to go through that."
How Will I Get What I Need?
According to ActionAid and GlobalCitizen, women menstruate for about 2,535 days in their lifetimes and spend about US $1,773 on menstrual products. In Sri Lanka, sanitary pads are considered a semiluxury item, and in Malawi, a pack of pads is more than a full day's pay.
Many families would rather spend their money on food or other essential items than on "women's problems." That's a reality that Adrienne experiences in her community in Togo.
"On average, one packet of 10 period pads costs US $1. These are the lowest quality, but good enough to make us clean. For better quality period supplies, we pay about US $3. But every girl cannot afford it, not even the lowest quality ones, due to lack of money. So they use folded pieces of cloth instead of pads," she says.
In many communities, houses are small — sometimes just one room — and packed close together. They also do not have their own toilet. As a result, many girls find it difficult to change and have privacy in their own homes, which is especially distressing when they are on their period.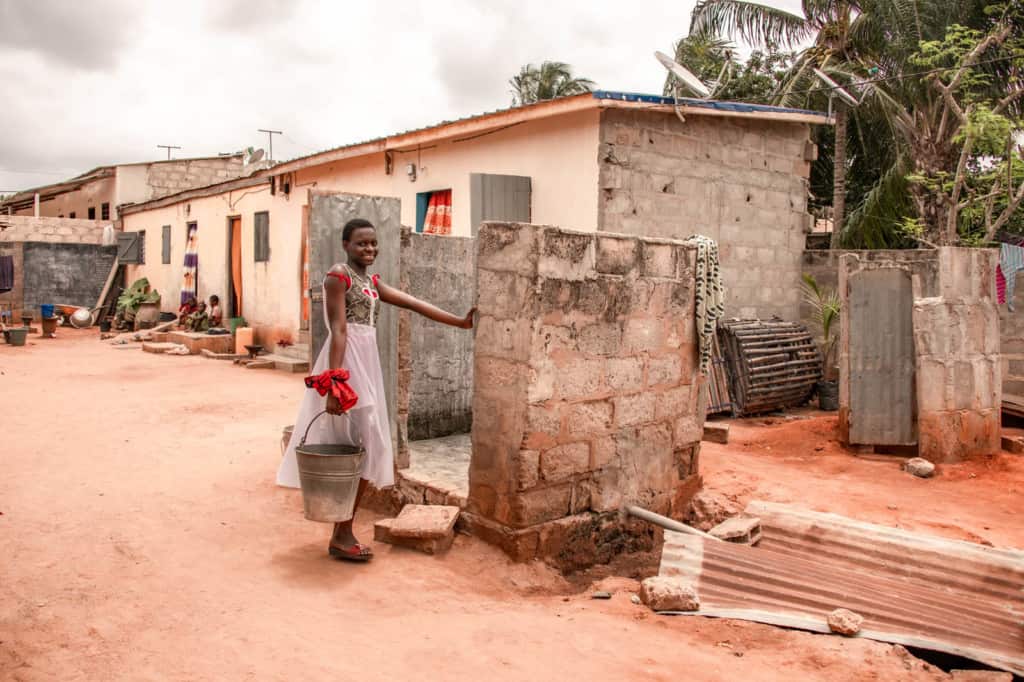 Why Don't Others Talk About It?
In addition to physical limitations, girls cope with stigmas about their periods. In Brazil, when a girl is menstruating, people say she is in chico. This expression is a reference to "pigsty" in Portuguese. Culturally, girls are considered dirty as pigs when they menstruate.
When Compassion center director Wendy walks through her community in Honduras and visits families, she witnesses how periods are still a taboo topic for most people.
"Parents do not feel comfortable telling their girls that they'll experience not only physical changes but will deal with menstrual cycles as well. Some parents even refuse to buy period supplies for their girls, not because they cannot afford them, but because they think their daughters do not need them. This lack of information and education about puberty results in bigger problems, like a high level of teen pregnancy," says Wendy.
In Brazil, girls like Maria Rita are reprimanded for participating in taboo behavior when they are on the periods. Even though many myths are no longer taken so seriously, they still permeate many girls' daily lives. Something as simple as eating a slice of watermelon can earn them a scolding.
"Elders say that we cannot eat watermelon, pineapple [or] eggs or drink milk when menstruating. Nor can we walk under the sun, pass under a lemon tree or walk barefoot," says Maria Rita. "They also say that we cannot ride any animal, like a horse, otherwise it will die, because our blood is rotten."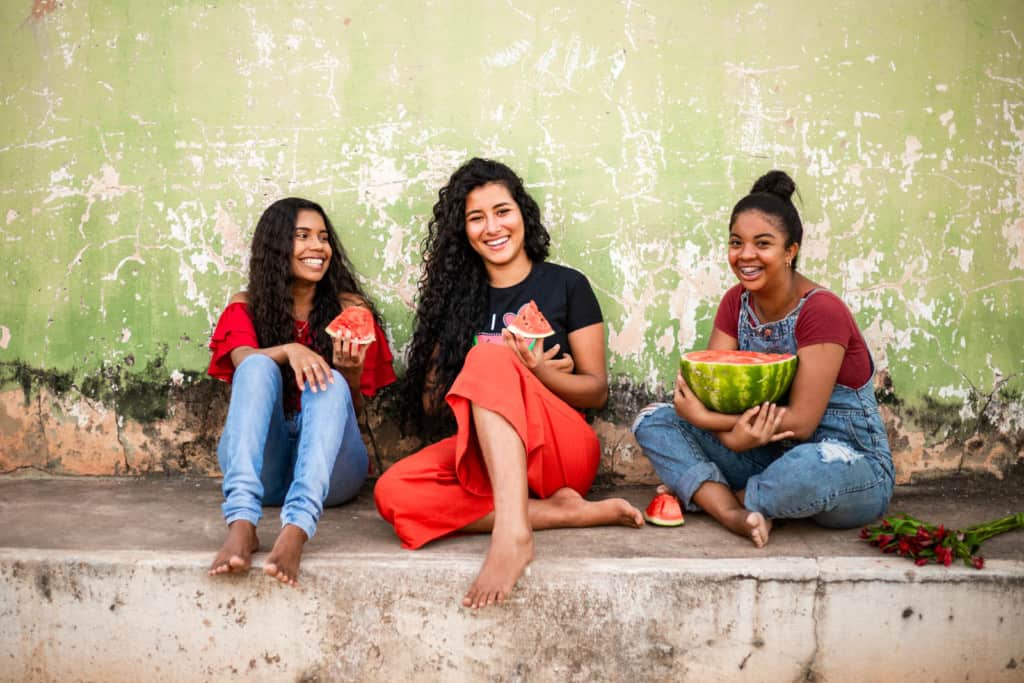 A continent away from Maria Rita, Adrienne is dealing with a similar reality in Togo. In her culture, girls are prevented from doing a lot of activities when they have their periods.
"In our Kabye tribe culture, a menstruating woman is considered unclean and is not allowed to set her feet in some places considered sacred. Also, women on their periods should not cook for their husband or father. I love cooking, so when I cook while I have my period, I don't serve my father."
How Will I Go to School?
The period stigma doesn't only impact girls' social activities — it impacts their educations as well.
According to ActionAid, about 50 percent of school-age girls in Kenya do not have access to menstrual products. In Rwanda, many girls miss up to 50 days of school or work every year because of period poverty and stigma.
"It's hard for some girls to buy their period supplies due to the lack of money. Because of that, they miss school exams if they can't keep themselves clean and safe. Over time, some of them feel so discouraged that they abandon school," says Jacqueline, a Compassion center director in Togo.
Answering Her Questions
People are used to seeing blood all the time in violent video games, films and sports. Yet when it comes from a woman, in a natural process, it's considered disgusting. That's why the way to fight despair and stigma is with knowledge and empowerment.
Monserrath's first period wasn't a big surprise to her because her mother and the center volunteers had already discussed it. She knew exactly what to do when she saw blood on her underwear at school.
When Adrienne thought the changes of becoming a young woman would limit her, she found education, protection and empowerment at her Compassion center in Togo.
"Two days after I got my first period, I went to the center, and the center volunteers talked to us about menstruation," she says. "At first, I was ashamed of talking about my period in public, but they counseled me on how to take care of myself, instructed me on hygiene practices and bought period supplies for me. Then I understood I wasn't the only girl dealing with that. I never missed school for lack of period supplies because the center always provided them."
In Maria Rita's center in Brazil, there is a group for girls called Jasmine Flower, where volunteers' support and educate girls about puberty. Because of the volunteer's support, Maria Rita started to see periods not as something to be ashamed of but as a normal process in a girls' life.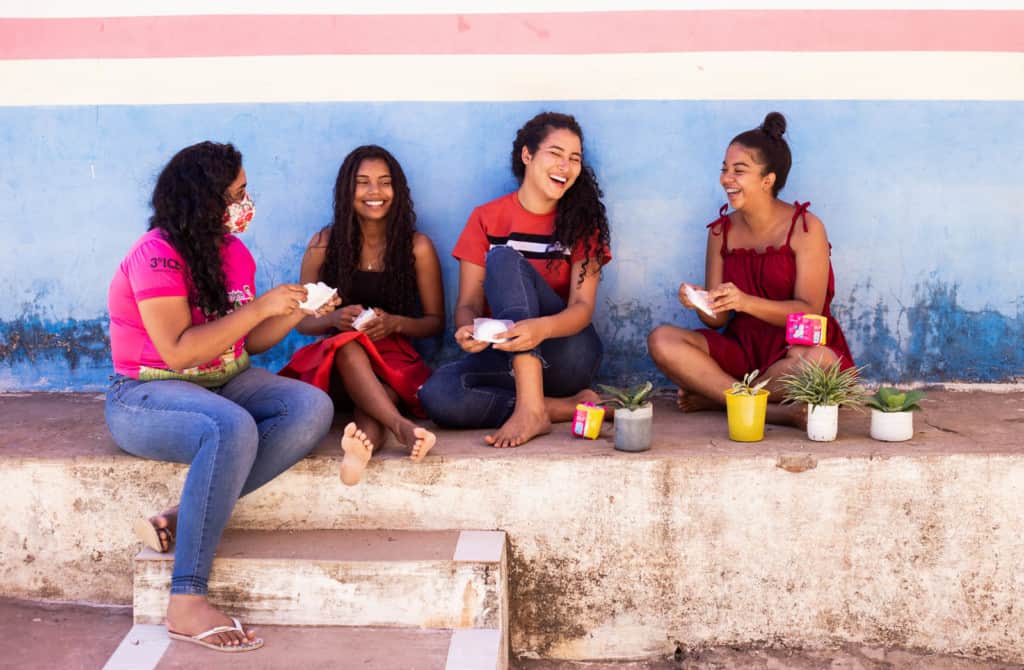 "I don't even know what I would be like if it weren't for the center. In our girl's group, we learn everything about being a woman: our bodies, illnesses and personal care. They explain everything to us and answer all we ask without ever judging us by our questions," she says. "Whenever we need pads or other hygiene products, we know we can always come here and ask the center's volunteers. They never deny us anything. It's great to know that we can always count on them."
According to Wendy, who also leads a girl's group in Honduras, their goal is to prepare girls mentally and psychologically for their physical changes.
"We talk about the importance of personal hygiene and how girls must shower and clean themselves, change their pads regularly, and live a normal life. Girls are very grateful for the workshop, and in the last years, we have raised awareness with parents about supporting their girls when they have their periods," she says.
Giving Girls a Green Light for Powerful Futures
Periods shouldn't be a red light for girls, stopping them from achieving their full potential. When a girl believes such lies, her dreams are stunted. Supporting girls through period challenges is supporting their self-confidence, dreams and futures.
If Maria Rita once hated herself for being a girl, now she loves being an example for the young girls in the center.
"I don't feel embarrassed for who I am anymore. I love being a woman, and because of that, I want people to respect women. … I want to become a lawyer or a judge and become an example for other girls," she says.
When Monserrath thinks about her future, nothing can hold her back. "When I think about my future, I picture myself as a doctor and speaking five languages," she says. "I know it sounds crazy, but I will fight for it. I also want to be an advocate for children and women's rights. I'm against discrimination of any kind, and I'm always raising my voice to break taboos and misconceptions."
Somewhere in the world, a girl wakes in the morning knowing the day will be hard. She takes a shower, chooses her outfit, opens a package of sanitary pads and puts some in her bag. The day will be hard not just because of her period, but also because she has an important exam at school and a soccer game in the afternoon. She knows life is lived with sweat, tears and blood, but no blood can hold her back.
---
Want to pave the way for a girl in poverty to have a powerful, influential future? If you'd like to celebrate International Day of the Girl Child in this way, consider giving any amount toward a Help a Girl at Risk Bundle in our Gift Catalog.
---
Field reporting and photography by and Odessa B, Sara Navarro, Juana Ordonez and Akpene Samaty.