Compassion supporter Sarah Damron shares her personal sponsorship story and offers 10 fun ways to include your sponsored child during Thanksgiving.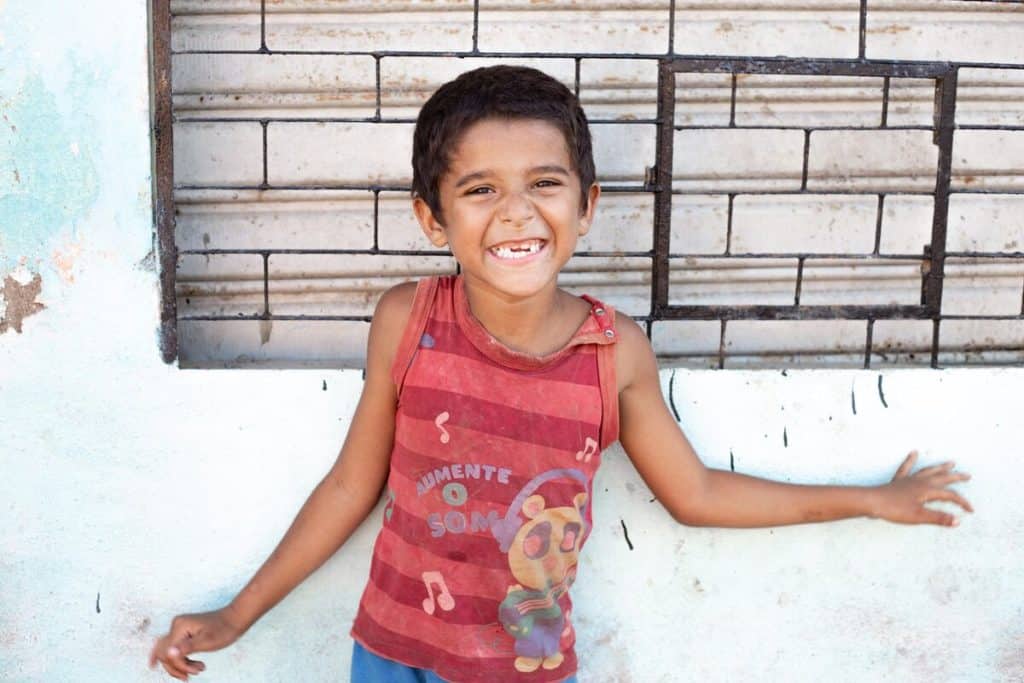 Thanksgiving From a Distance
This year's Thanksgiving will look a little different. With the changes that COVID-19 has brought, Thanksgiving may not include a large family gathering.
But I'm grateful that the pandemic has helped us learn how to celebrate with those we love, without having to be near them. This reality inspired my family to consider ways to use what we learned to also celebrate with our sponsored children.
The first child my husband and I sponsored was 4-year-old Ana Clara. A few weeks earlier, we had experienced a devastating loss when our firstborn daughter was stillborn. We began sponsorship in honor of her.
Since then, we began sponsoring a second child, Abdiel. And while Ana Clara and Abdiel may not live in the same country as us, they are definitely in our hearts and minds. Here are 10 ways we came up with for bringing them into our celebrations and showing them we are thinking of them this Thanksgiving.
How to Include Your Sponsored Children
One day I hope to be able to celebrate with our sponsored children in person, but until then, I love finding creative ways to include them in our family celebrations.
Here are 10 of my favorite ideas for how to include your sponsored children this Thanksgiving:
1. Give thanks for them
What is Thanksgiving without saying why you are thankful? Our family likes to go around the room and list several things we are thankful for.
This is a perfect time to let your whole family know just how thankful you are that your sponsored child came into your family's life. You can even be more specific and list ways the Lord has worked in your sponsored child's life over the past year.
One creative way to list what you are thankful for is to record what each family member says on an artificial pumpkin. As the years go by, the pumpkin will be filled up with blessings.
Your sponsor child would be overjoyed to see their name listed among your blessings in a picture of your holiday pumpkin.
2. Display their pictures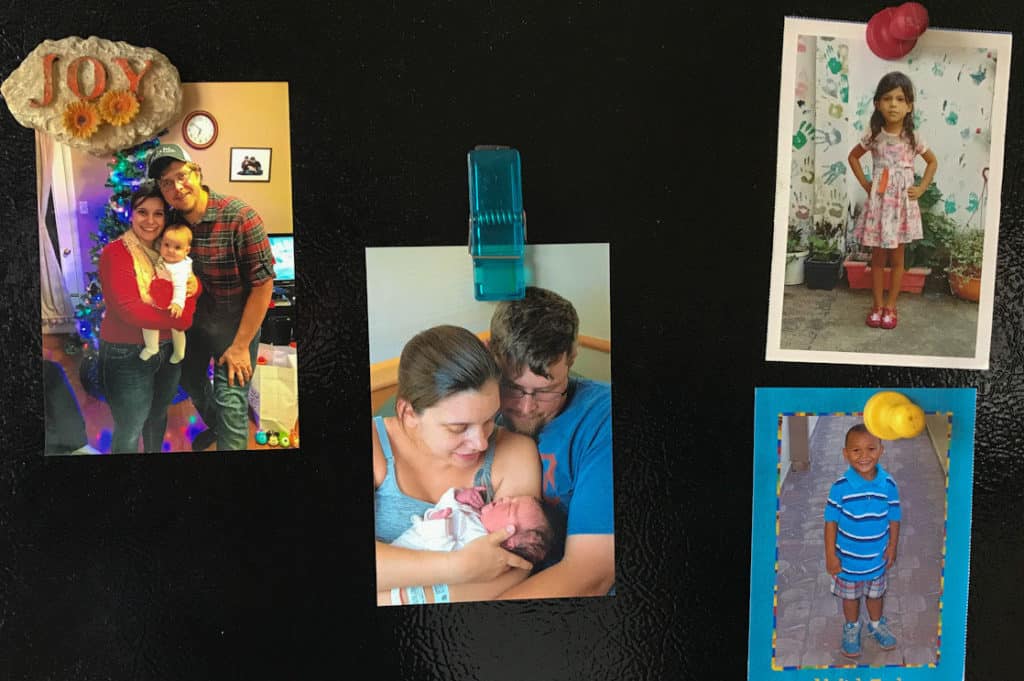 Ana Clara and Abdiel's pictures both hang by magnets on our fridge. This place is often seen in our home because we love to snack all day long. Seeing their faces reminds us to write letters and pray for them.
Having your sponsored child's picture displayed publicly over the holidays will spark conversations with visitors about child sponsorship. Their picture may even inspire other family members to sponsor children of their own.
3. Read about them
After dinner, instead of turning the TV on for football, spend some time reading. This can be an opportunity to read more about your sponsored child.
Learning about the child's home will remind your family to be thankful for what you have and encourage them to share their blessings with others.
Reading over past letters from your sponsor child is another way to connect with them over the holidays. You can also read about poverty around the world to help educate your family about ways in which you can be a blessing to others in need.
4. Write to them as a family
Writing a sponsor letter together as a family can be done all year long. Since the whole family may be gathered around the table over Thanksgiving, it makes writing a sponsor letter together even easier.
One fun idea would be to pass the letter around. Each person at the table can take a turn writing a sentence or two to your sponsored child, telling why you're all thankful for them.
This will let your sponsored child know you are thinking of them during the holiday.
5. Draw pictures for them
If you have younger children at home, they may not be able to write yet. They can still be involved with the letter-writing process by adding drawings to the letter.
After dinner, while the adults are cleaning up, the children in your home can be given craft supplies and coloring sheets. Sponsored children always welcome personalized artwork!
Some ideas would be to decorate Bible verses, color in pictures, and paint handprints that you can include in the letters to your sponsored child.
READ: FAQs about what you can send the child you sponsor.
6. Include them in family photos
If you schedule a holiday family portrait session, bring along your sponsored child's picture. Ask the photographer to snap one picture while your family holds up your sponsored child's portrait.
This family photo will be extra special to your sponsored child as they can see you holding their picture. They will be reminded about how you are thinking of them during the holidays.
7. Print their pictures on plates
One Father's Day, I turned my daughter Johanna's handprints into a plate as a gift for my husband. This gave me the idea to do the same with our sponsored children's pictures.
These children took the time to draw these pictures for us. We could easily select a few favorites and have them printed on plastic plates as a way to enjoy their creative gift.
These plates can be used during the holidays as a reminder to pray for your sponsored child before dinner.
Be sure to take a picture to send to your sponsored child so they can see their artwork being shared and enjoyed by all.
8. Serve in your community
You may not be able to serve your sponsored child directly, but there are plenty of people in need around your neighborhood. Find ways to serve local ministries or shelters for people who are homeless.
A great place to start is at your church. Ask your church's ministry director for ideas of places you can serve.
Send up a prayer thanking the Lord for the men and women in your sponsored child's life who are doing the same for that child this holiday season.
9. Create personalized ornaments
When Thanksgiving is over, one of my family's traditions is to decorate for Christmas. When we start bringing out our Christmas ornaments, my family has a time of bonding over the memories associated with each one.
I especially love coming across our personalized ornaments. These have names, dates, and even pictures.
If you would like a way to include your sponsored child beyond just Thanksgiving, add their picture to an ornament of their own. This way they can be there, reminding you to pray for them all holiday season long.
BONUS: Picture ornament template from Compassion Explorer!
10. Take a special offering
There are several gift options for your sponsored children: birthday, Christmas, and just because. Thanksgiving is a little late for sending a Christmas gift by Christmas, but you are always welcome to send a gift just because you are thinking of them. These gifts are important as they help give your child essential supplies they might need that go beyond what sponsorship covers.
To get your whole family involved in giving a special gift during the holidays, pass around a bowl for donations toward a gift.
What better way to show how grateful you are for what you have than to share your blessings with others in the Lord's name?
"Do not neglect to do good and to share what you have, for such sacrifices are pleasing to God."

Hebrews 13:16 (ESV)
What Will You Do?
These are just a few ideas to get you started. I look forward to seeing and hearing about some of your own ways to include your sponsored child in your holiday traditions!
---
Photos by Sara Navarro and Sarah Damron.