Marion (not her real name) was only 5 when she and her father became ill.  Marion's father tells us,
"When we visited the local health center for treatment, the doctor used the same needle on both Marion and myself due to a shortage of supplies."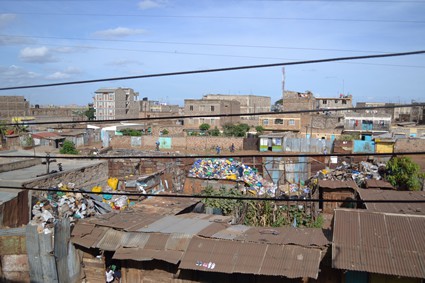 Marion's father was unaware of the danger this posed to his daughter. He was involved in an extramarital affair at the time, but it soon ended when the woman passed away.
"My girlfriend died after she succumbed to illness. I learned from her brother that she had died of AIDS. I was shocked."
He did not get tested, but he did tell his wife about his girlfriend's death. They agreed to abstain from physical intimacy.
"It became very difficult for me to have sexual relations with my wife. In any case, she went to stay upcountry."
He was left to care for the family by himself. Before long, he became very ill.
"I had a headache, diarrhea and my joints were very weak. A painful rash ran along the length of my back to my stomach and itched relentlessly."
Tests showed he was HIV-positive. He feared the worst for his family.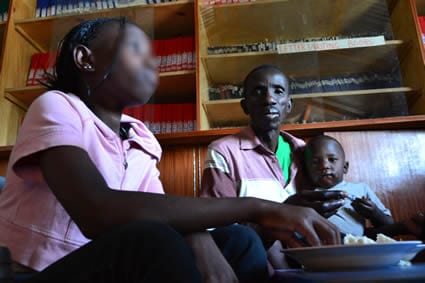 Months later, Marion was diagnosed with tuberculosis, a common infection for people with HIV. The workers at Marion's Compassion-assisted child development center recommended a visit to the hospital, where the doctors performed several tests including one for HIV. The results were devastating.
Marion's father came back to the child development center and broke the news to us. He also told his wife.
"Marion's mother was angry with me, and she cried a lot for our daughter."
We have helped both Marion and her father receive antiretroviral therapy (ART) from a city hospital at no cost. ART is a treatment that maximally suppresses the HIV virus.
A cobbler by day and a security guard by night, Marion's father works two jobs to meet the needs of his family. Initially, he could earn about 300 shillings (a little more than $3 U.S.) a day. But a raid during the post-election violence in 2008 left him with nothing.
"All my materials were stolen from my shop. I was chased away and I lost my customers. I had to start all over again. I could no longer afford to feed my family."
He worried that his family's health would deteriorate and was afraid that lack of food would cause Marion to succumb to the side-effects of the HIV therapy. He needed help.
"The development center supplied us with enriched porridge, flour and beans, detergent and clothes. From then on, we never went to bed hungry. And I do not remember having to buy clothes for Marion as she had enough."
His family also received a special gift from Marion's sponsor.
"Marion's sponsor bought us a cow that has now given birth to four calves."
His wife takes care of the cows back at the village. The milk they provide boosts the family's income.
Recently, Marion's father almost stopped taking his ART drugs due to kidney complications. But one of the development center staff helped him get back on track.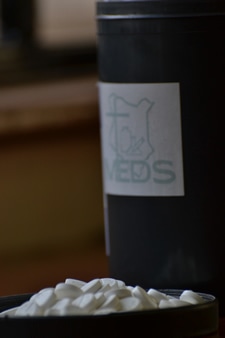 "I did not drink enough water with the drugs. When I followed the center worker's advice, the problem went away.

"I now take about eight to 10 glasses of water every day and I have not skipped my drugs."
This experience helped Marion's father gather enough courage to talk to his daughter, who did not understand why she had to take the ART drugs.
The drugs would sometimes cause her to vomit, feel dizzy and miss school.
"When she was 11, I told Marion about the disease she suffered from and why she felt the way she did.

"I asked her never to skip the drugs, which she takes twice a day, because they will prolong her life.

"I told her to take responsibility over her life and, hopefully, live long enough to witness a cure for the disease."
Marion and her father have every reason to push on and fight for health every day. But for the 2 million Kenyans living with HIV/AIDS, it is a challenge to find basic care, nutrition and safe drinking water and to develop necessary living skills.
Philegona, director of Marion's child development center, says there have been improvements in the community.
"Through counseling, our registered children living with HIV/AIDs, together with their caregivers, have greatly improved their lifestyles. More people have opened up and [the] stigma is on a downward shift."
As Philegona observes Marion and her father, she sees how positive they are.
"Marion's father is a funny man. He cracks jokes and tells us about his triumphs. Marion, too, is a happy child. She likes to play with other children and to spend time in the child development center's computer room."
Marion has just completed her primary school exams. She is looking forward to beginning secondary school soon. Her dream of becoming a nurse is alive and well.
"I want to be a nurse so I can help patients when doctors are not around."
Marion has a lovely smile on her face and a deep assurance in her eyes that everything will be all right.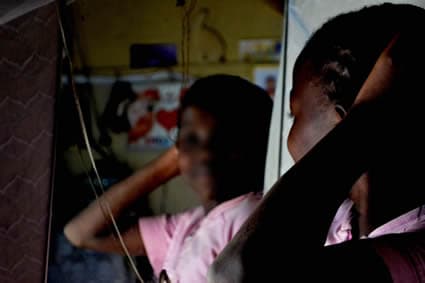 While the ART drugs are very helpful, their side-effects are evident on her father's thin, towering frame. His lips look scorched and his eyes are sunken under his brow. But he is thankful to all who have made it possible for him to see another day.
"I want to thank everyone who has been of help and I urge them to continue. Without them, my survival and that of my daughter would be very difficult."
As Marion's father holds his daughter's reassuring hand, he is hopeful.
"God has opened a way through prayer, and I have faith that we will continue to live."