Hunger
Norah's slight body trembled as she looked to her right and then to her left. Her mother insisted that she never cross the street, but Norah's desperation drove her past the honking cars to the door of her mother's salon.
Norah stopped short of the door. Through the window she studied the women cutting hair and allowed herself to dream of a day when she could work to earn enough money for an education. She shoved the thought aside as she pushed the door open, and her daydream was interrupted by the sound of a ringing bell and the thought of how unbelievably hungry she was. The women's chatter came to a hush as Norah whispered, "Mama, I'm sorry, but I came to see if I could get something to eat."
Norah shifted awkwardly and took a few steps toward her mother's chair. Did she not hear her the first time? Was she ignoring her — too angry that she had crossed the street? She moved closer and quietly tried again, "Mama, I'm hungry." As her mother glanced down, Norah could see her own reflection in the tears brimming in her mother's eyes.
"When's the last time that baby ate?" Her mother's client shot a concerned glance at Norah. The silence that stretched between the three of them said it all. And then this thoughtful woman spoke these words: "Do you know about the church nearby — the one that is helping children?"
It was in this desperate moment that Norah's story began to change.
Heartbreak
Although Norah grew up in one of the poorest communities in Uganda, the love that her family shared was rich. Her mother, a hairdresser, and her father, a soldier across the border in the Rwandan army, worked hard to provide for Norah and her growing dreams.
But when war and genocide tore through Rwanda in 1994, it also ripped a hole straight through Norah's heart. Her father was killed in the conflict, along with much of her extended family.
Norah recalls, "Life took a terrible turn after the death of my father. We had no one to run to. We had no support."
The dreams that the mother and daughter shared for a better future were eclipsed by a struggle for basic needs. Her mother's job could no longer provide for school fees, rent and — most often — the next meal. "For us at home it was hand-to-mouth on our lucky days," Norah remembers.
Norah had missed a few meals the day she stood with eyes wide and stomach empty in her mother's salon. Not many things worried Norah more than going hungry, but being unable to attend school robbed her of feelings of purpose and hope. The idea that she might grow up illiterate, homeless and hungry filled Norah with fear.
Hope
Norah and her mother gasped to catch their breath in front of the church building. When they heard that an organization called Compassion International had partnered with the local church to care for children like Norah, they ran as fast as their feet could carry them to the front steps.
As Norah took deep breaths, a sweet, warm smell filled her nose. She was invited inside and offered a bowl of porridge. Norah couldn't believe she was enjoying a warm meal, and one so decadent as to have milk! She hadn't tasted milk in so long.
Norah remembers, "That was the best meal I ever had!"
She knew that she had found hope at this center, and she was registered immediately.
During Norah's time at the Compassion center, she was finally able to return to school — fees paid in full. She also began to live with an assurance that she had never experienced. Norah would be fed, would have shelter and would feel provided for every day by the church partners and Compassion staff.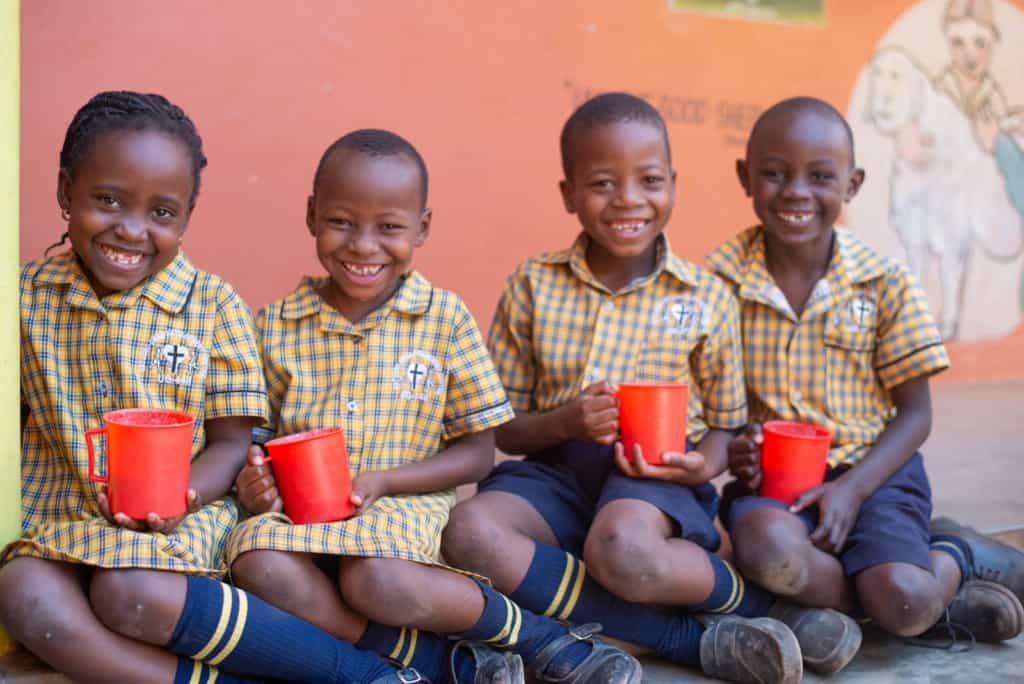 "At the Compassion center, I always looked forward to going there because there was always good food," Norah shares. "Chicken, eggs, milk, rice — those were my favorites."
And when she learned about Jesus — about his love and forgiveness — she found healing through forgiving the ones who had killed her father and family that terrible day in Rwanda. Little by little, as Norah began to grow, so did her hope for her own future.
"Also, the praise and worship there was just the best time for me," Norah continues. "We used to dance! Those were my favorite times at the center."
And as she learned more about Jesus, Norah discovered her favorite Bible verse:
"For I know the plans I have for you," declares the LORD, "plans to prosper you and not to harm you, plans to give you hope and a future."

Jeremiah 29:11
How God Works
For months, Norah would attend the center and notice the other children opening letters from across the world. They would read the letters wide-eyed, soaking in words of hope from their sponsors.
Finally, Norah heard the words she longed for, "You are being sponsored!" Norah now looks back at that moment and can say, "That's when my hope was restored!"
"In Africa [it] is not easy, especially from where I come from … to find somebody to tell you that you are special," Norah remembers. "To be honest with you, it was my sponsors who first told me that she loved me and that felt so special to me and I actually felt loved."
This love would become part of Norah's bigger story — one in which God revealed his plans to give her hope and a future in amazing ways. He would use her determined mother, a compassionate client, a local church, and her friends from across the globe to transform Norah's future.