Bob Lenz is one of our ministry's closest speaker partners. If you are a sponsor who connected with us at a summer music festival or on the recent Newsboys tour, you may already be familiar with Bob.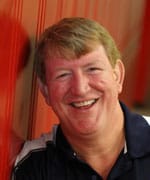 What you may not know about Bob Lenz is that he spends most of his time in active ministry with junior high and high school students around North America.
Our goal of releasing children from poverty in Jesus' name hits close to his heart because it is at the core of his own ministry.
Poverty takes many forms, and Bob Lenz has given his life to helping young people who struggle most with poverty of the heart.
In Bob's own words:
"I was in El Salvador a few years ago to introduce some friends to the work of Compassion. For the last 15 years it's been a part of my ministry with students to provide them an opportunity to partner with Compassion by sponsoring a child.

To be honest, my heart was saying, 'I've seen this all before.' It wasn't that I was taking this trip lightly; it was just that I was so busy supporting this great ministry and calling others to support it or get involved, that I didn't see my own need and how God had sent me on this trip for me.

I always want to do something for God, which isn't bad in itself, but I easily forget that He wants me to be in relationship with Him, the God of the universe, even more every day.

The verse I read before our first child development center visit was 1 Corinthians 13:3: 'And if I give all my possessions to feed the poor, and if I surrender my body to be burned, but do not have love, it profits me nothing.'

What if I give all I have to the poor, if I get people signed up, if I get kids sponsored? How can you do that and it not be love?

But I get so into what I'm supposed to do, that I forget who I'm supposed to be, who God has created me to be, and what He created me for… a relationship with Him, to love Him, worship Him, and enjoy Him.

Even ministry can become cold and callused and a form of legalism – an attempt to somehow please or appease God. This can happen when it becomes just a program and you don't see the faces behind it.

So there I was, walking into a Compassion child development center with 171 children, and each one was waving a brightly colored balloon to welcome us. The smiles melted my heart, and then they sang a few songs.

My heart said, 'It is working,' and I felt good about being a part of this great work. I was so glad my friends were seeing it.

Then the director asked me to step away from the crowds and pray for one student. 'Sure,' I responded.

The girl I was asked to pray for was maybe 5 or 6, with dark black hair pulled into a pony tail. Her deep brown eyes would melt anyone. I knelt down to get to her level, and she reached to grab my hand as the director of the child development center told me her story.

Her mother had died when she was young, and she lived with her Papa whom she adored. But just two weeks ago he was on the bus coming home from work and he fell asleep. Some gang members attacked him, cut him and broke his neck. The director told me, 'He died and she is now an orphan. Could you pray for her?'

I have seen it all before? My heart swelled.

This isn't an 'it.' This isn't about a development center, or poverty, or getting sponsors. This wasn't about a ministry or someone's vision.

This was about a child, a person with a heart and hurts and longings. She is in a situation I can't even imagine, facing what a child should never have to face.

I no longer had to wonder what my heart would feel if this happened to someone I knew… I do know her now. She was holding my hand.

Only then could I get a glimpse of what God feels for her. Never before have I felt so inadequate, so hopeless, and so angry at the effects of poverty. There were no feelings of having done enough.

Instead, I felt compelled to do anything and give everything. Yet I couldn't do anything to take away her pain of losing both parents.

I don't understand what happened next, but as I stumbled over my words in prayer and the tears from the director, the girl's heart and my own joined as one on the ground, and our hearts cried out in desperation together as equals. It was as if I was in the presence of God Himself.

This is not about anything but worship. And I have realized that until we see real people – real children and not tragedies, we will not see Jesus.
---
Bob Lenz is the director of Life Promotions.